Leyland looking for ways to snap Avila's slump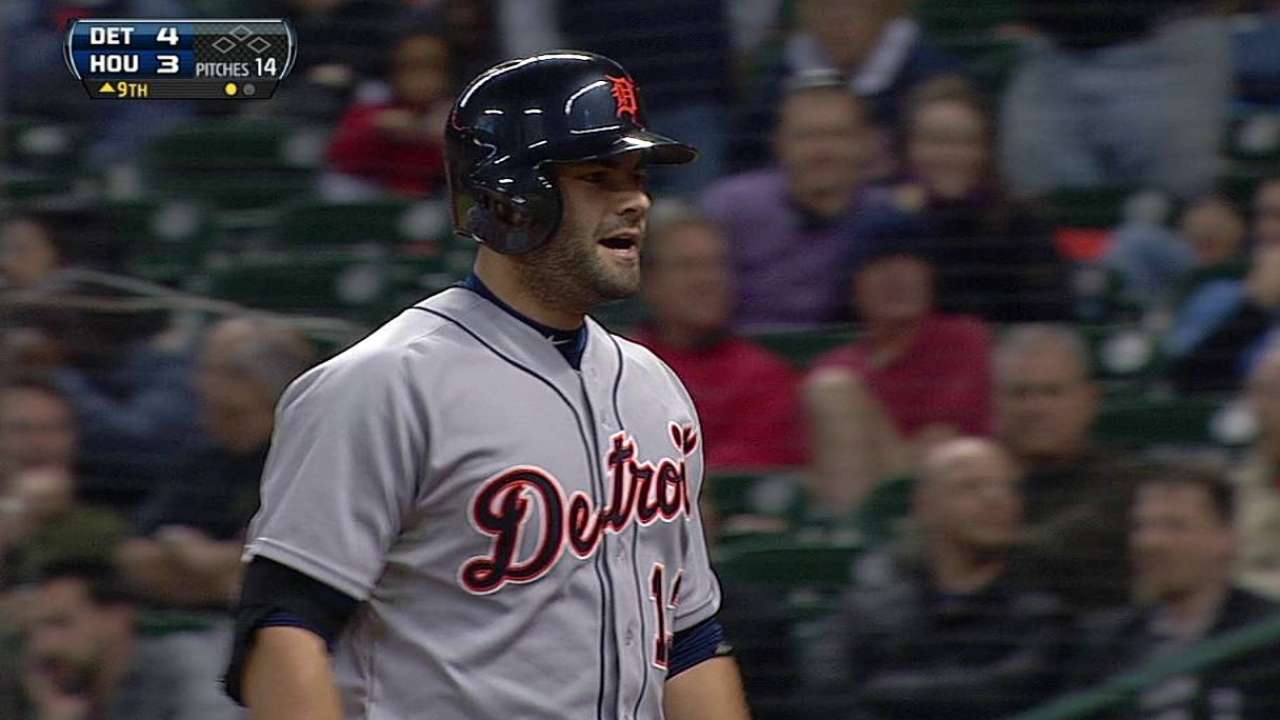 CLEVELAND -- Tigers manager Jim Leyland is trying to come up with any idea he can to help Alex Avila out of his season-long slump, even talking with the former All-Star catcher about what he and the coaching staff might be able to do.
Leyland's next idea might be to back him off from everyday play.
Though the Tigers had ace Justin Verlander on the mound, and left-handed hitters have fared better against Ubaldo Jimenez, Leyland rested Avila for Wednesday's series finale against the Indians. Brayan Pena, 4-for-5 off Jimenez entering the game, started instead, making his fourth start with Verlander.
Avila won't start Thursday's opener against the Twins with lefty Scott Diamond on the mound, either, making it back-to-back nights off. It's not a premeditated idea on Leyland's part to get him away from his struggles for a stretch, but it essentially amounts to a break.
"I did this with Pudge [Ivan Rodriguez] a few years back a bit toward the end there, played him and then sat him out, played him and sat him out," Leyland said before Wednesday's game. "He actually got going pretty good. He didn't particularly like it, but it actually worked pretty good. I'm not saying I'm exactly trying that with Alex, but I've got to do something. …
"Right now, you've got to kind of go with your gut and pick and choose. I do think, sometimes, maybe a couple days might be OK. I don't really know the answer. I don't think there's a magic formula."
Part of that mix comes naturally with the righty-lefty mix the Tigers encounter with starting pitchers. The fact that Pena is a switch-hitter gives Leyland a little more flexibility than a simple platoon.
Avila has to figure out something. Avila is hitless in his last 11 at-bats and is mired in a 1-for-21 slump over his past seven games. Leyland gave no indication that any roster move could be near. Quite the opposite, in fact. He reinforced Avila's status as their catcher. Everyday catcher, however, might be pushing it.
"I don't want to indicate that Alex isn't our catcher, because he is our catcher," Leyland said. "But somehow we've got to get him going. At some point, I have to do something. Sit him down for two days. Sit him down for three days. Go every other day for a while.
"I don't really have the formula just yet in my mind, but I don't want anybody to think that I haven't been thinking about it. I ask a lot of opinions of the coaching staff. I do a lot of soul searching at night, what's the best way maybe to bring this guy out of it."
Avila has taken extra batting practice as much as his catching demands allow. He has tried to avoid falling into the trap of thinking too much at the plate, keeping his approach simple.
"I've had some good at-bats and bad at-bats," Avila said. "It's just a matter of trying to have as many good at-bats as possible, to be as consistent with that as possible. I don't know what I'm going to end up with at the end of the season as far as my statistics, but one thing I can control is to do whatever I can to help the team win and keep trying to put consistent at-bats together. Whatever I end up at statistically, it is what it is."
As much help as the coaches try to offer, though, it's on Avila to figure something out. He told Leyland as much when they talked.
"My job as a player is to perform," Avila said. "Everything that they can do, obviously, you try to help me as much as possible, and then as player, especially up here, you have to be your own coach at times, as well. The bottom line is it's on me to be able to perform. That's it."
Jason Beck is a reporter for MLB.com. Read Beck's Blog and follow him on Twitter @beckjason. This story was not subject to the approval of Major League Baseball or its clubs.