Miggy's rocket shot proves too close to call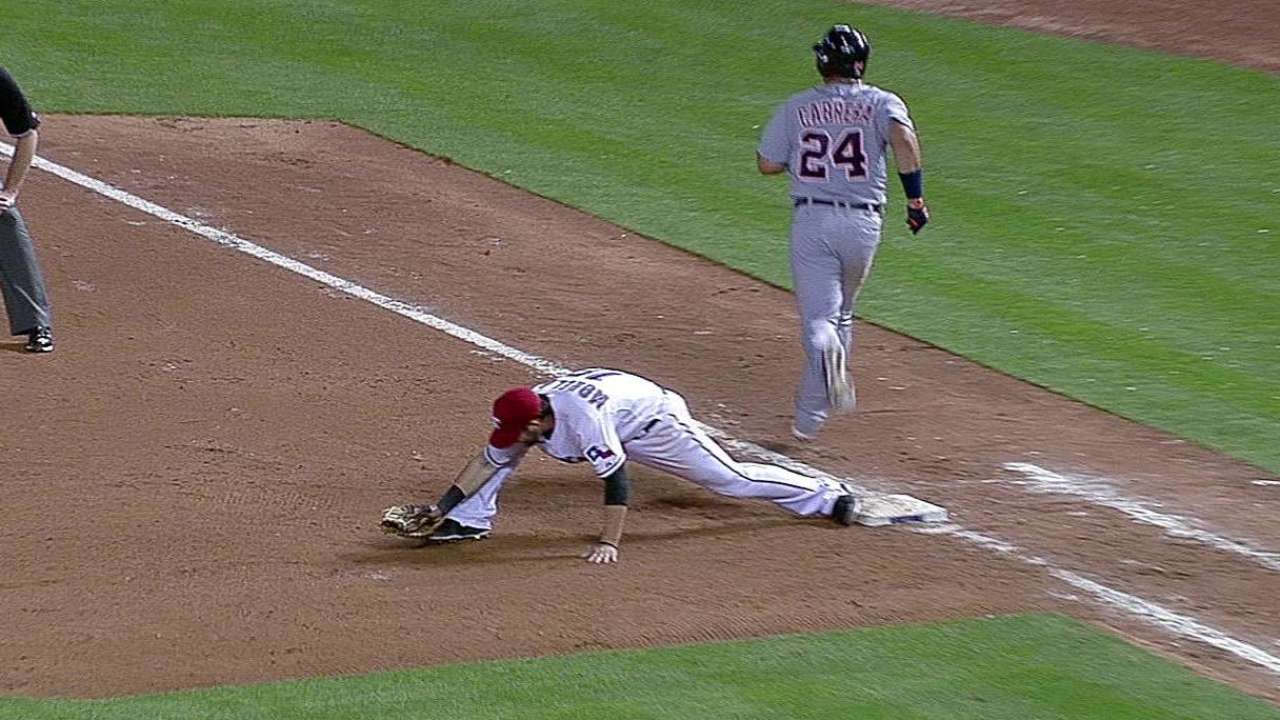 ARLINGTON -- When can Miguel Cabrera, known for his batting prowess and not so much for his foot speed, turn a sizzling line drive to the third baseman into a bang-bang play at first base? When he hits the ball so hard, it ricochets off the third baseman's glove and winds up in the shortstop's hands instead, like he did in Thursday night's 10-4 loss to the Rangers.
Adrian Beltre, one of the best defensive third basemen in the game, had no chance on Cabrera's wicked one-hopper in the eighth inning, but the ball caromed right to Elvis Andrus, whose throw nipped Cabrera at first. Or did it? Don't ask Tigers manager Jim Leyland.
"From the dugout, I thought he was safe," Leyland said. "I went out there because of Raffy's [first-base coach Rafael Belliard] reaction. He doesn't do that unless he thinks he's right."
Leyland had a brief discussion with first-base umpire Ron Kulpa before returning to the dugout. Later, the skipper took a look at the replay.
"To be honest, in fairness to the umpire, I couldn't tell if he was safe or out on the replay," Leyland said.
Even facing one of the American League's best in Texas right-hander Yu Darvish, Cabrera was hitting bullets all over the field, though he only had one hit, a double to left. He also lined out hard to left and was robbed of another hit on a diving stop by Rangers first baseman Mitch Moreland.
"He could have had four hits," Leyland said. "He's the best hitter in the game right now, in my opinion. Plain and simple."
Cabrera started Friday night's game ranked second in the league in hitting at .366, just behind James Loney's .367 mark for Tampa Bay.
Jim Reeves is a contributor to MLB.com. This story was not subject to the approval of Major League Baseball or its clubs.