Valverde still rounding into pitching shape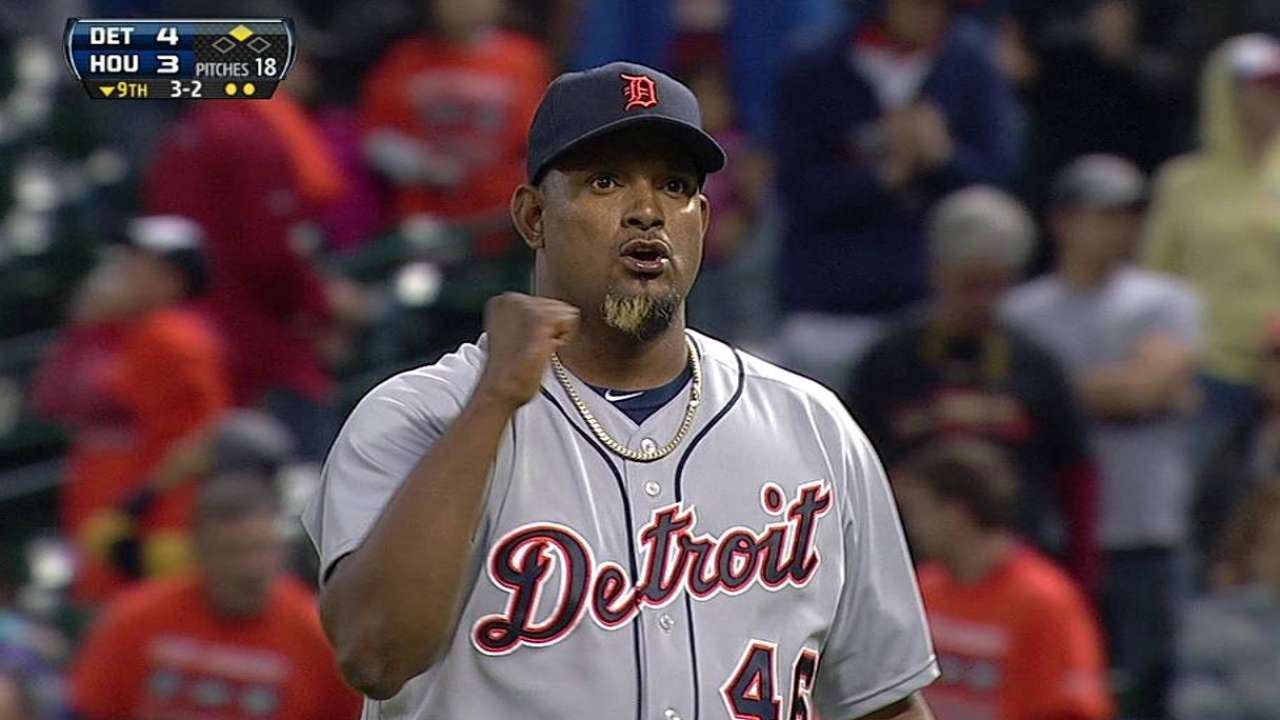 DETROIT -- The feeling of trepidation when Jose Valverde enters a game with a lead too large for a save is a familiar one for Tigers fans, who recall four-run leads turning into one- or two-run games before they're done. Right now, though, the Tigers want him in games like Tuesday, when they took a 6-2 lead against the Astros into the ninth.
Valverde talked on Sunday about not having a Spring Training. Games like Tuesday are about as close as he's going to get to camp work.
"We think we need to get him in better pitching shape -- not physical shape," manager Jim Leyland said. "He looks good physically. He's not too heavy or out of shape. … Valverde's in good shape, but not probably pitching shape. We felt like it's important to get him out there and pitch him a little bit, continue to build the arm strength up."
Valverde threw 10 pitches, eight for strikes, on his way to retiring the side in order in the ninth. He threw three splitters, including a called third strike on Carlos Pena to end the game.
That, arguably, is part of pitching shape.
"He threw some splits that we were tickled with," Leyland said. "Two of them were pretty darn good. And Sunday against Cleveland, it was cold, and he couldn't feel it, and that's why he didn't throw any."
Weather has been part of the reason why Valverde hasn't thrown many splitters. However, Valverde said he doesn't need it as much as he did in past years because of the sinker and cutter he's added over the past few years.
"Sometimes you have to throw your split more," Valverde said. "It's like when I was in Arizona, I had to throw my split and fastball a lot, because I don't throw a sinker. Right now, I throw a sinker and I throw a cutter. I don't need to throw my split-finger every pitch, because I have more pitches."
Jason Beck is a reporter for MLB.com. Read Beck's Blog and follow him on Twitter @beckjason. This story was not subject to the approval of Major League Baseball or its clubs.