Leyland excited for Red Wings coach Babcock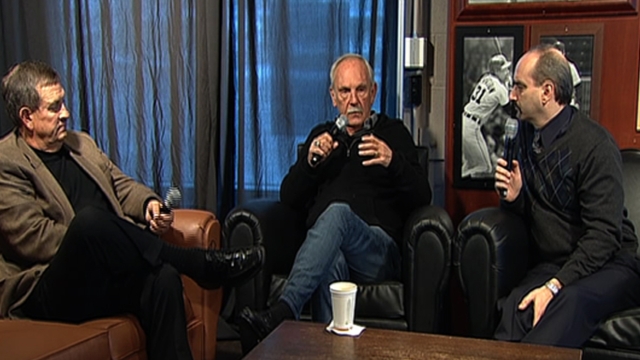 DETROIT -- Among the many folks in Michigan staying up late Sunday night to watch the Red Wings in their first round Stanley Cup Game 7 against the Anaheim Ducks was Tigers manager Jim Leyland. He wasn't disappointed.
Leyland has talked several times with Wings coach Mike Babcock, and has invited him to Comerica Park whenever his season ends. Leyland said he was fascinated watching the strategy as the game unfolded.
"I really enjoyed it," Leyland said. "Like I've said, I don't know anything about hockey, but I thought it was really interesting. To be honest with you, I wasn't really sure they had timeouts in hockey, other than TV timeouts. They had that timeout at the end of the game, which I thought was interesting. It almost reminded me of a basketball game when the coach says, 'OK, this is what they're probably going to try to do. This is what we're going to do.'
"I don't know how you can do that with the puck flying around, how you can have a play for sure. But plays seem to be broken up, and the puck seems to be going around every place. They must have them, but it was interesting, because Babock was prepared for his timeout, whatever it was. He had something for them."
Leyland said he has seen what their coaches do for pregame preparation, and while he doesn't understand it all, he was impressed by it. He hopes Babcock has a chance to do the same.
"He'll be over here, hopefully not too soon," Leyland said. "He's a great guy."
Jason Beck is a reporter for MLB.com. Read Beck's Blog and follow him on Twitter @beckjason. This story was not subject to the approval of Major League Baseball or its clubs.