Downs' thoughts with Happ after scary incident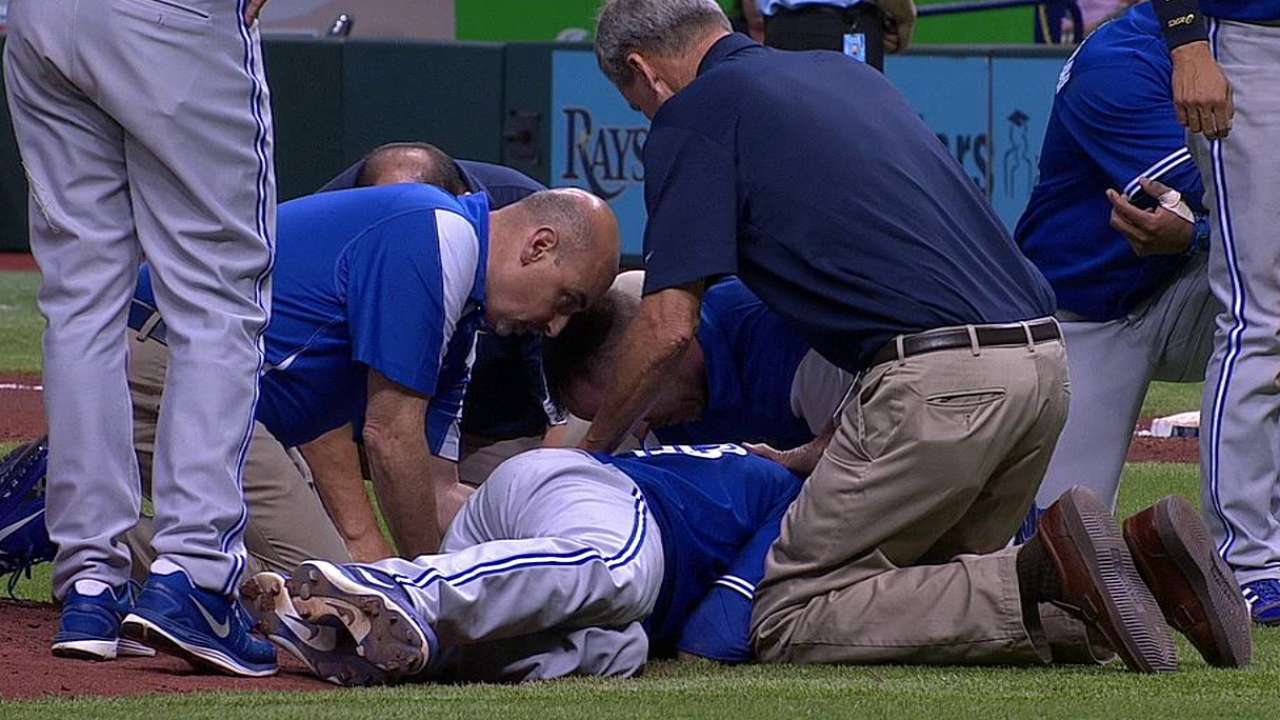 WASHINGTON -- Darin Downs has had enough time go by since he was hit by a line drive in the Minor Leagues, fracturing his skull and nearly ending his life, that he doesn't think about himself when he sees a play like the liner that J.A. Happ took Tuesday night.
His thoughts, and his prayers, were with Happ.
"How he's doing, how his friends and family are worried about him," Downs said Wednesday afternoon. "As a fellow pitcher and baseball player, I'm just in awe. You just start praying for him."
The news that Happ is fine, other than a contusion and stitches, was welcome for Downs, just as it was for manager Jim Leyland. As for the debate that follows on the potential future for protective headgear, both expect it's going to be a long process.
As traumatic of an experience as Downs had, as close as he came to death, he said it's not as easy as coming up with a quick solution and mandating pitchers wear it. It's going to take time and research.
"It wouldn't have helped in this incident. Maybe it would have helped me," Downs said. "But nobody's going to wear one unless it feels comfortable and feels natural. It's kind of like the new helmets. They had to make them as light as they possibly could so that guys would accept them."
Downs is taking part in the process. He tried on a couple hats over the winter that a company is developing. The biggest problem they encounter, he said, is that head shapes vary so much from one athlete to another.
"They didn't really fit right on my head," Downs said. "Every head's different, so you'd have to actually custom fit the piece and custom fit the actual crown of the hat, because with the insert, the crown of the hat would sit higher than normal. A lot of things come into it, so it'll be a while until something comes up."
Leyland, who sits on Major League Baseball's Special Committee for On-Field Matters, agreed.
"I think you just have to wait and see what they design, what they come up with," he said. "There's too many factors involved in that, and there's too many people that would have to get that passed through before they do that.
"I mean, common sense says [you want] something for protection, but there's a lot of logistics that are involved in that -- what pitchers feel, the Players Association, the rules committee. It's just too much of an in-depth thing right now. I'm sure they'll do a lot of studies on what they think might be advantageous or helpful."
Jason Beck is a reporter for MLB.com. Read Beck's Blog and follow him on Twitter @beckjason. This story was not subject to the approval of Major League Baseball or its clubs.