Prince looking for a pitch to drive, taking walks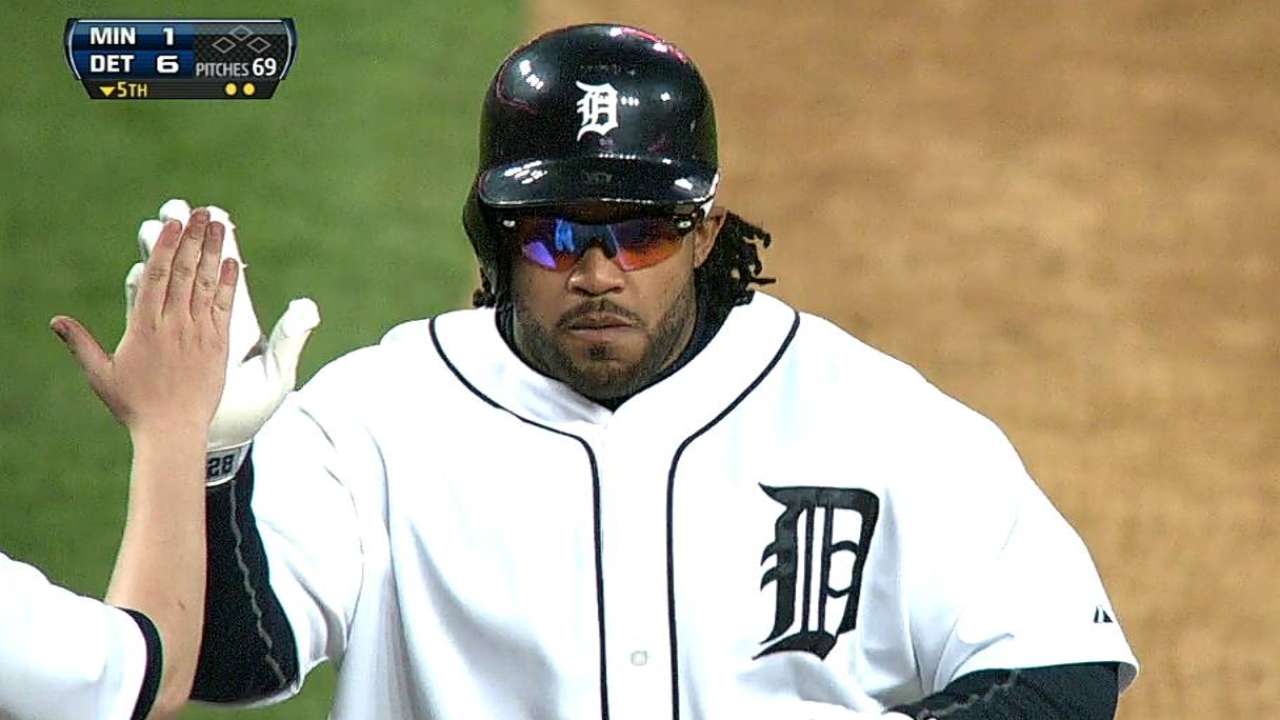 HOUSTON -- Detroit's Prince Fielder saw exactly four strikes in his four plate appearances Friday night at Houston, walking three times.
Fielder entered Saturday leading the American League in walks with 24, four ahead of second-place Lance Berkman of Texas.
"I'm just trying to get a good pitch," said Fielder, showing no displeasure at how opponents are pitching around him. "It's part of the game. Its part of hitting -- walks, hits, trying to help the team. It's no different than a single."
Fielder has learned to be more selective over the years. He walked over 100 times in each of his last three years in Milwaukee, 2009-11.
"That comes from getting a little more mature, knowing yourself and knowing what you can actually hit without making an out," he said. "There's certain pitches I know I can't hit, whether it's a strike or not. I try to wait for a pitch I know I can hit hard."
Manager Jim Leyland praised Fielder for his patience at the plate.
"Most people try to get good hitters out on balls," Leyland said. "You can't lose your patience. You can expand your zone, but you can't expand it too much or you're going to make outs. You swing at strikes, you get hits, you swing at balls, you make outs. It's that simple. "[Fielder's] a very patient guy and he's done a good job of that. Very rarely does he expand to swing [at balls]. That's smart. He's got a pretty good hitter behind him."
That would be veteran designated hitter Victor Martinez.
In Thursday night's 14-inning game, Austin Jackson doubled to lead off the 14th. Torii Hunter moved him to third, and the Astros walked Miguel Cabrera intentionally to set up a double play.
That brought Fielder to the plate, but the Astros walked him, too, to load the bases. Fielder was a little surprised he was walked intentionally.
"Thankfully they did and [Don Kelly] got the job done," Fielder said of Kelly, who singled in the go-ahead run. "So it worked out."
Fielder said the walks are not part of his game plan.
"I'm not going for the walk at all," he said. "The more aggressive you are, the better you see the ball. They might throw strikes, but I'm still waiting on the strike I can hit.
"I never swung at a lot of bad pitches coming up," he said of his days in the Minors. "Pitchers didn't know me yet, so they gave me more what I wanted to swing at. When you get up to the big leagues, the pitchers are different."
Gene Duffy is a contributor to MLB.com. This story was not subject to the approval of Major League Baseball or its clubs.