Valverde focused on present day in Detroit
Tigers reliever excited for fresh start after his rough 2012 campaign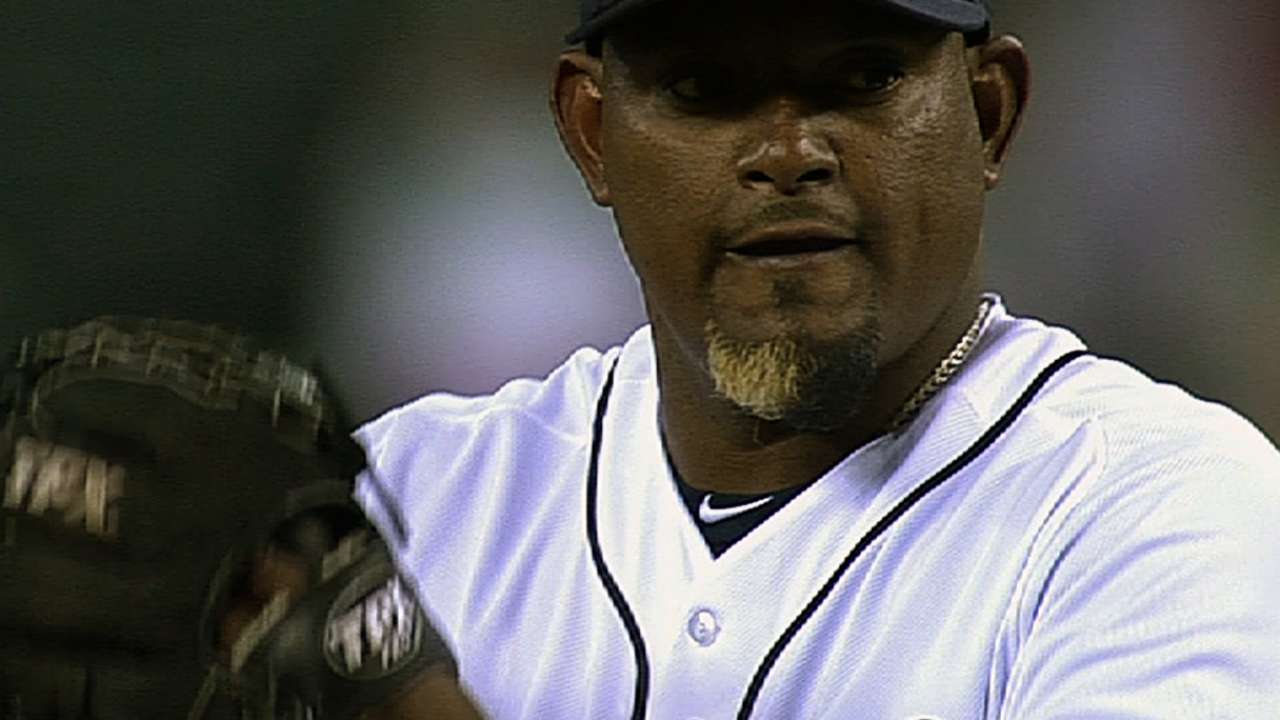 DETROIT -- Jose Valverde on Wednesday stepped into the ballpark he called his office for three years, put on the same Tigers jersey he has worn since 2010 and headed towards the same bullpen where his eccentricities have become keenly familiar.
His return was a triumphant one, as he fired a 1-2-3 ninth inning for the save in the Tigers' 7-5 win over the Royals.
To Valverde, though, his return to Detroit is a bit of a new start. When asked if he was injured down the stretch last season, Valverde made it clear that he isn't interested in reliving the past.
"That's what everybody thinks, that something bothered me last year. No," Valverde said. "It's in the past. Good thing, bad thing, last year's over. I have to do what I have to do here this year."
So, too, is his Minor League stint in Florida to get him ready.
"I did my Spring Training over there," Valverde said. "I have to do it better here."
Valverde admittedly wasn't sure he would get up to the Majors this quickly. The original plan, he said, was for him to get a week or two at Triple-A Toledo to work his way in. The way he looked and felt after back-to-back outings at Class A Lakeland, though, all Valverde felt he needed was one more outing there and he would be ready to go.
A day later, Valverde was on a flight to Detroit, where he signed a one-year deal with $2 million guaranteed and up to $3 million possible in incentives.
It came six months after Valverde seemingly said farewell to Comerica Park for the last time after the World Series. The Tigers told him at that point they did not plan on re-signing him.
"I was never thinking anything bad," Valverde said. "I know there's a lot of teams out there I could be signing [for], but I'm here for the Tigers again. I've been working in the Dominican, working in Lakeland [Fla.] and doing everything."
Pitching-wise, Valverde is giving every impression he is better than last year. His fastball, he said, is hitting 96-97 mph, a tick up from scouting reports. He's throwing his splitter with regularity now, as well as a sinker.
"I have split-finger, both sides, for left-handers and right-handers. And I have my sinker," Valverde said. "Everything's working."
After throwing fastballs with more than four out of every five pitches in 2012, Valverde believes he now has a full arsenal to throw at hitters. Moreover, he knows he has to do it. The splitter, he indicated, was the big thing missing from his game last year.
"I've been closing for almost 10 years in the big leagues," Valverde said, "and I know exactly what I have to do. I have to be able to throw strikes and throw my sinker and my split, everything."
Maybe to emphasize the difference, Valverde has changed his look. Instead of the fiery orange beard he adopted last year, he has gone halfway with his chin hair. The right side is bleach blond, the left side dark and untouched.
"It's something different," Valverde said. "Everybody see me last year, I had a blond [pony tail] behind my head. It's not something big, something crazy. It's something different."
Jason Beck is a reporter for MLB.com. Read Beck's Blog and follow him on Twitter @beckjason. This story was not subject to the approval of Major League Baseball or its clubs.