Villarreal still backed by manager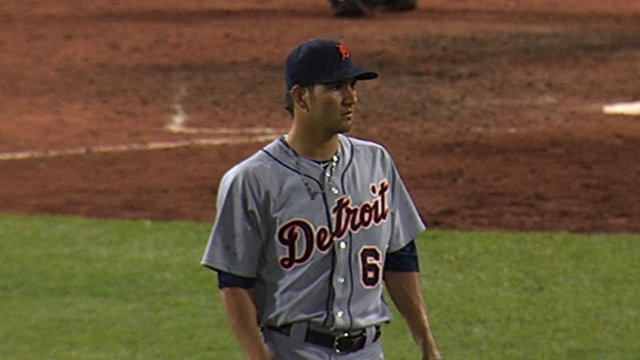 DETROIT -- A day after Brayan Villarreal's seventh-inning meltdown, Tigers manager Jim Leyland didn't have any answers Thursday behind his struggles, though he suspects the weather might have played a part.
It's clear, however, that Leyland is taking Villarreal's success last year -- a 2.63 ERA in 50 appearances -- into consideration when evaluating his rough start.
"His numbers are pretty good up here, so we know he's a lot better than that," Leyland said. "He had a tough day. He had a bad time. Those things happen. But the key is, you obviously give a guy a break when there are conditions like that. That happens. Their guy, [Steve] Delabar, came in and couldn't throw strikes at first.
"The common denominator is that you can't get people out if you don't throw the ball over the plate. Hopefully that was the exception rather than rule, and I think it was. … He's normally pretty capable in those situations."
Villarreal, who's allowed eight earned runs in 1 1/3 innings, was available to pitch on Thursday. At some point, Villarreal is expected to look over video and try to figure out the mechanical issue he suspects is behind the struggles, but it isn't clear whether that has happened yet.
Jason Beck is a reporter for MLB.com. Read Beck's Blog and follow him on Twitter @beckjason. This story was not subject to the approval of Major League Baseball or its clubs.