Shorter swing could go long way for Tuiasosopo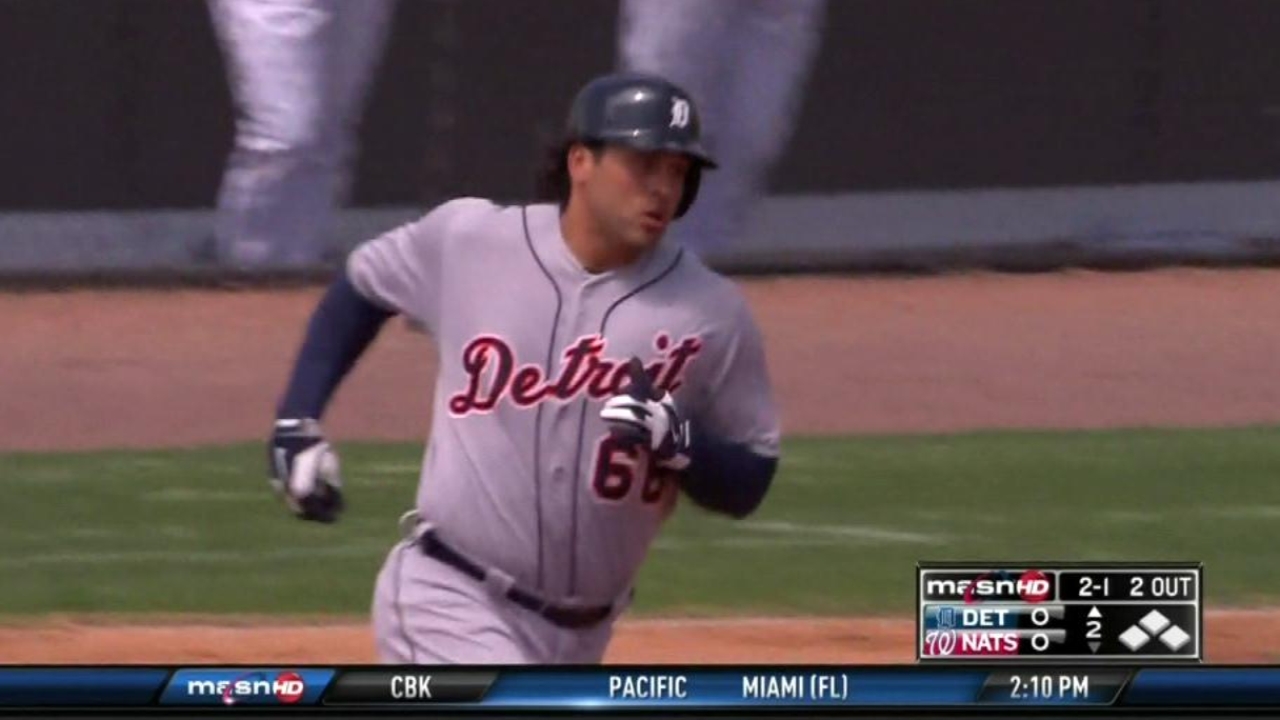 DETROIT -- The Tigers' first encounter of the season with a left-handed starting pitcher Sunday meant the first start of the year for Matt Tuiasosopo after a pinch-hit appearance Thursday at Minnesota. It also meant the first test for how well his bat, which pummeled fastballs for most of the spring, can hold up in limited play.
It's a bigger challenge than it sounds like.
"I did that job for 8 1/2 years in the big leagues. It's a tough job," Tigers hitting coach Lloyd McClendon said. "The best advice I can give him is when you get a pitch to hit, don't miss it."
On Sunday, he did not. With two line-drive singles, Tuiasosopo accounted for half the Tigers' hit total off CC Sabathia over his seven shutout innings, with a two-out walk in between.
"I just wanted to be aggressive," Tuiasosopo said. "I faced him before, so I just kind of went off how he has attacked me in the past, and then just watched the game film, and I was able to get a couple hits."
The key for a reserve player to hit, manager Jim Leyland said, is to have a quick swing. It's easier to step off the bench and adjust to pitches if the swing allows as much reaction time as possible.
Leyland didn't see that in Tuiasosopo right away. He saw more of it as Spring Training wore on.
"Early in Spring Training, I saw a longer swing," Leyland said. "As the spring went on, I saw it shorten up. Now, the key is, can you keep that when you're not a full-time player?"
It wasn't so much of a conscious adjustment, McClendon said, as it was a natural progression as the at-bats accumulated.
With guys who hit for power, McClendon says, it's a balancing act.
"What Tuiasosopo has to learn," McClendon said, "is to hit for power with a short stroke."
Tuiasosopo said he has tried to get extra swings in the batting cage this week with left-handed batting-practice tosser Ed Hodge. He also has been watching video of the left-handed pitchers on the Twins and Yankees to get an idea of what to expect.
"Just make sure I'm doing all the work I need to be doing to prepare myself," Tuiasosopo said. "As soon as I cross the lines, it's time to just trust it and go out and have some fun."
Jason Beck is a reporter for MLB.com. Read Beck's Blog and follow him on Twitter @beckjason. This story was not subject to the approval of Major League Baseball or its clubs.