Leyland gives Santiago chance to impress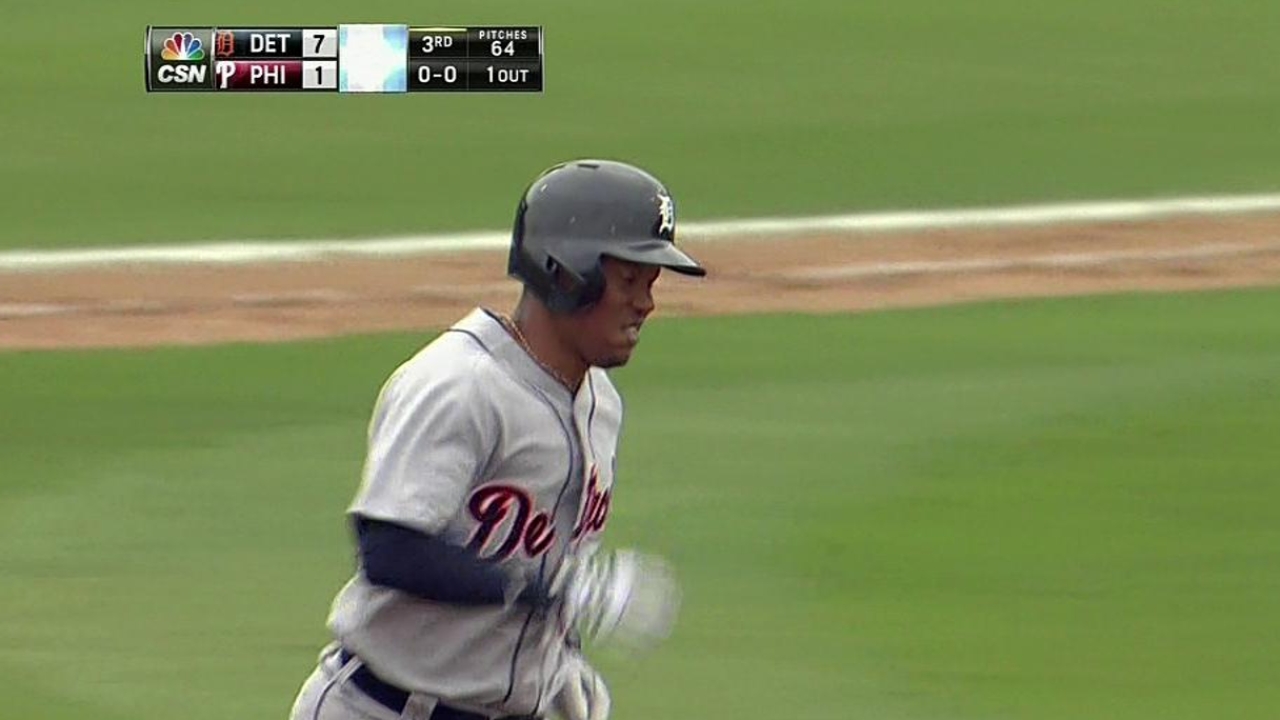 DETROIT -- Ramon Santiago is getting an early run of back-to-back starts this weekend, beginning Saturday with a start at second base. He might also be getting an early test.
The remarks from manager Jim Leyland when asked about the benefits of Santiago playing winter ball this past offseason seemed to hint at that.
"I haven't really seen the effects of that so far," Leyland said of Santiago, who went 6-for-24 with four walks, a home run and eight RBIs in an injury-shortened Spring Training. "That's why he's playing the next couple games, to see what he's got. He's a big part of our team and has been in the past, did not have a good year last year, started out OK in winter ball, but did not finish real good. So we'll have to just see how that plays out."
Santiago was always expected to make the team out of Spring Training, but fellow utility infielder Danny Worth was the final cut of camp. Though Santiago, who's under contract for $2.1 million this year, was mentioned on the trade market by another American League official at the end of spring, any deal was highly unlikely.
Santiago entered the day 0-for-7 for his career against Yankees starter Phil Hughes -- including the postseason -- but Omar Infante had similar struggles at 0-for-4. Santiago will start at shortstop Sunday in place of Jhonny Peralta, who's 3-for-23 with a home run, four walks and six strikeouts against scheduled starter CC Sabathia. Santiago is 10-for-36 with two doubles and a home run off Sabathia.
Santiago won't be the only reserve getting a start Sunday in Detroit's first matchup with a lefty starting pitcher. Matt Tuiasosopo is expected to get his first start as a Tiger in left field, filling the role Detroit wanted with its fourth outfield spot. Brayan Pena will also make his Tigers debut at catcher.
Leyland wanted to make it clear, though, that he isn't sitting guys out of fatigue.
"I'm not resting people. I'm utilizing my roster," Leyland said. "If you don't play Santiago, what's the day you decide to play him? Ten days into the season? Eleven? That's why Tuiasosopo is going to play against the lefty tomorrow. That's what he's here for. Alex has caught all the games so far. Pena's going to catch tomorrow. That's what you do in utilizing your roster."
Jason Beck is a reporter for MLB.com. Read Beck's Blog and follow him on Twitter @beckjason. This story was not subject to the approval of Major League Baseball or its clubs.