Decision on Rondon looming after rough outing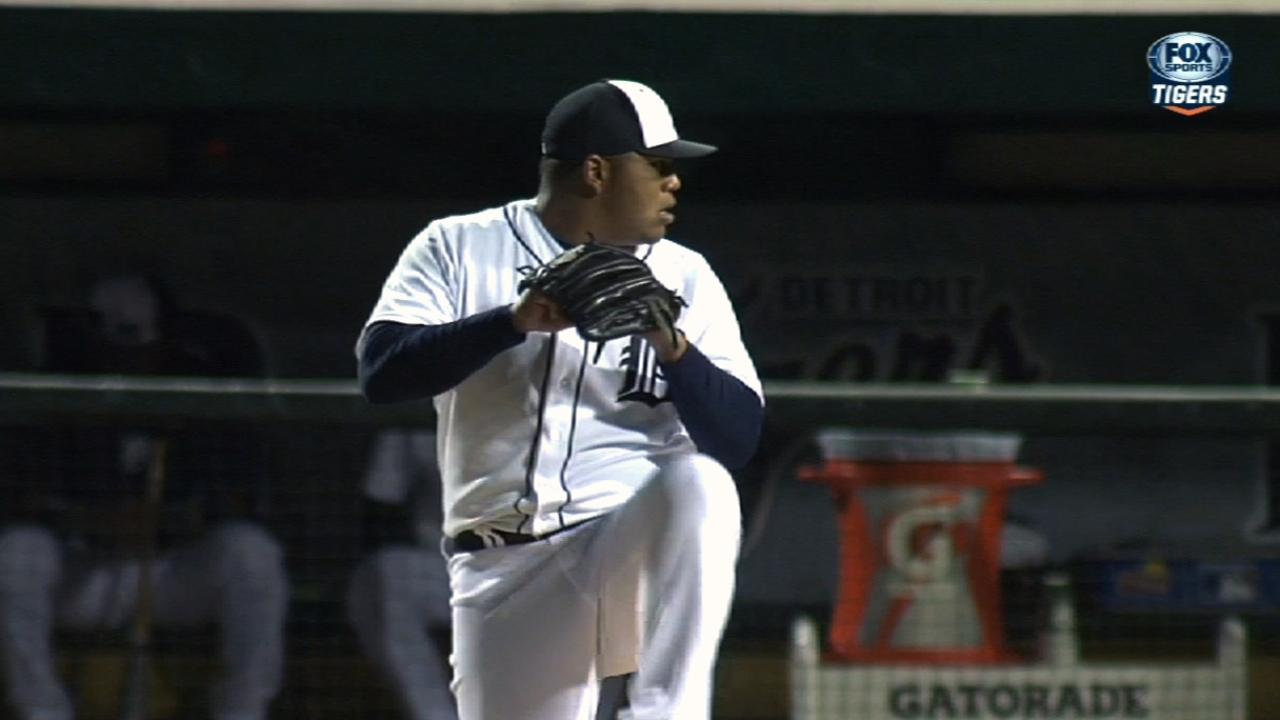 LAKELAND, Fla. -- The spotlight that has been shining on Bruce Rondon every outing for the last five weeks finally can come down. Now comes the judgment of whether he's ready to pitch in the big leagues, let alone close.
Wednesday's outing against the Phillies didn't make the decision process any simpler.
"From an organizational standpoint, we're evaluating a couple of these last decisions we have to make," manager Jim Leyland said. "We evaluated yesterday and we evaluated today, and we will discuss those evaluations in both instances."
Without saying as much, Leyland was acknowledging the difference in the two days, and the complication in putting together a judgment as a whole. A day after Rondon submitted what Leyland called his best pitching of the spring, the right-hander struggled to try to get through his inning of work Wednesday.
Neither of the back-to-back singles Rondon allowed leading off Wednesday's seventh inning were hit particularly hard, though Ben Revere's ground ball single was hit hard enough to elude Danny Worth's diving attempt at third base. With runners at the corners and nobody out, Rondon rebounded to fire fastballs past Troy Hanzawa for the first out, but Michael Young's grounder to short sent Jhonny Peralta just far enough to his left to leave him without a play at the plate.
It also moved the speedy Revere to third, and that's where Rondon's outing seemed to come apart. A walk to Laynce Nix put runners at the corners for Carlos Ruiz. A balk then cost Rondon another run.
Catcher Alex Avila took the blame for the balk, saying they had a mixup on signs. When Avila threw down another sign, Rondon stopped in his delivery, drawing the call and sending Revere home with another run.
"Alex said he messed it up. I don't worry about that," Leyland said.
Ruiz's ensuing walk drew Leyland out of the dugout as soon as Rondon snatched the toss from Avila. Rondon had hit his pitch count, and Leyland did not want to go much past that on Rondon's second straight day of pitching.
"He wasn't as sharp, obviously," Leyland acknowledged, "but he wasn't bad, bad."
That said, Leyland acknowledged it'll be part of the evaluation.
Leyland said earlier Wednesday that he's hoping to have a decision on his remaining roster spots, including the bullpen, on Thursday.
Jason Beck is a reporter for MLB.com. Read Beck's Blog and follow him on Twitter @beckjason. This story was not subject to the approval of Major League Baseball or its clubs.