Rondon's command off against Yankees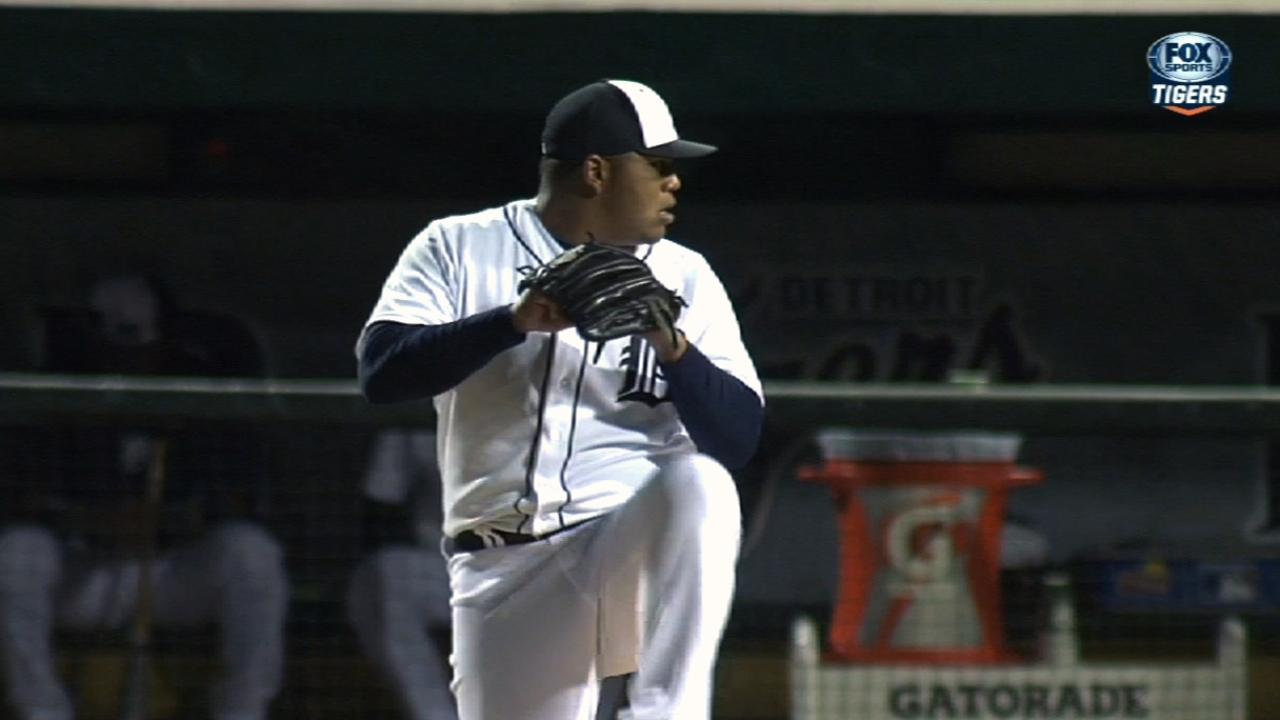 LAKELAND, Fla. -- Bruce Rondon had shown steady progress over the last couple weeks since working with pitching coach Jeff Jones to improve his mechanics. Command-wise, though, Rondon's inning of work Saturday looked more like his early spring struggles.
Rondon fell behind Yankees outfielder Ben Francisco, challenged him with a fastball on a 3-1 count and watched Francisco line it over the left-field fence for a two-run home run in the eighth inning. He didn't walk anyone, but he gave up two other hits and spiked a slider in the dirt for a wild pitch that advanced a runner.
More important than results, Rondon struggled to locate his secondary pitches to get hitters to wave at it until the end of his inning, when he induced a Chris Stewart groundout and fanned Melky Mesa. Both outs came on sliders, and they came after Jones made a mound visit to tell him to calm down.
"I think [teammates] had already talked to him about stuff like that, being able to get a secondary pitch over for strike one, things of that nature," manager Jim Leyland said. "I know Jonesy's talked to him about it. I'm sure he's very aware of it. Would today stick out even more? It might be a reminder. I don't know that it would stick out more."
Leyland said Rondon's secondary pitches have been inconsistent.
"There have been some outings where he's executed a good breaking ball," Leyland said, "and some outings where the breaking ball was OK, but it wasn't tempting enough. It's been a good swing-and-miss pitch in some outings, and there have also been outings where it really wasn't a threat because it wasn't close."
Rondon said through a translator that he considers his slider his second-best pitch. He also throws a changeup in the upper 80s to complement a fastball that hits 100 mph at least once an outing. He said he mixed his pitches more after they were hitting his fastball.
Leyland has shied away from questions about Rondon's readiness, and true to form, he hesitated when asked if he felt like Rondon was ready to be a full-time closer.
"I'm not willing to give my opinion just yet, because I don't know the answer," he said.
Jason Beck is a reporter for MLB.com. Read Beck's Blog and follow him on Twitter @beckjason. This story was not subject to the approval of Major League Baseball or its clubs.