Tigers return Rule 5 pick Kobernus to Nats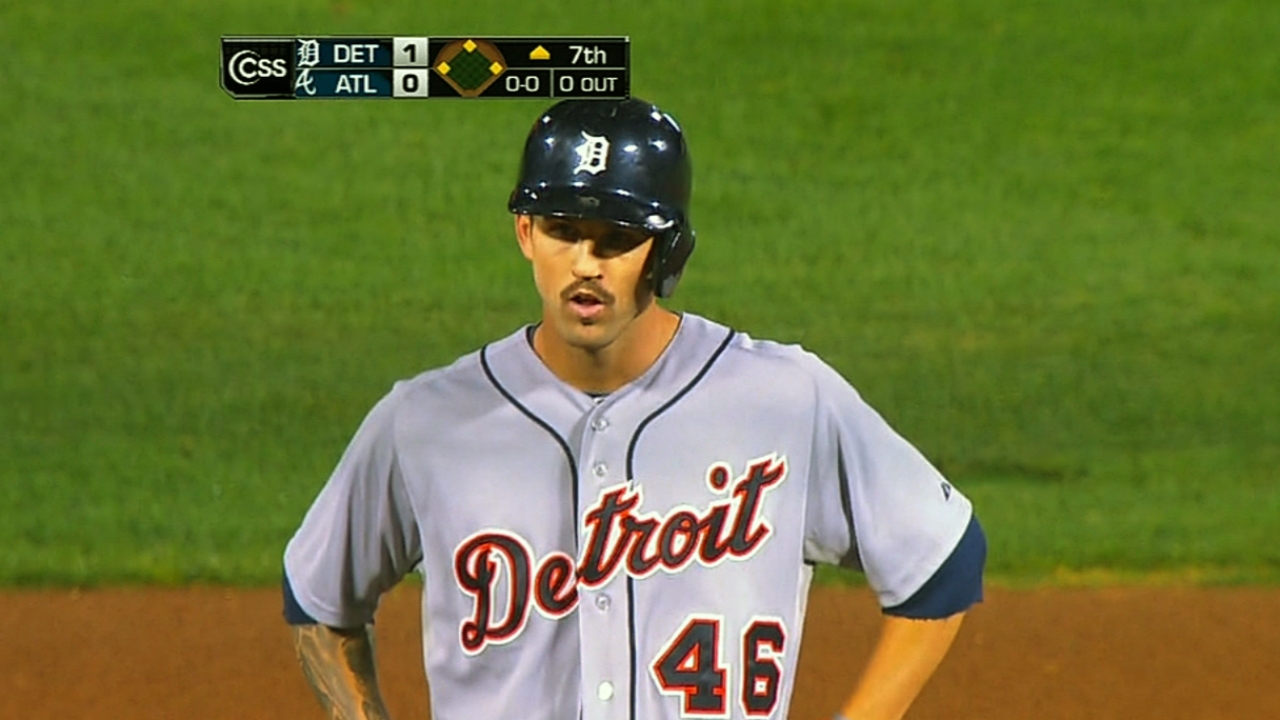 LAKELAND, Fla. -- The Tigers' search for a right-handed-hitting fourth outfielder was just whittled down to the point that Matt Tuiasosopo's best competition probably isn't in their camp, as Detroit returned Rule 5 pick Jeff Kobernus to the Nationals on Saturday.
"We didn't say we have the job filled yet," manager Jim Leyland said after the move. "We just think that we can fill the job. No final decision has been made. We're comfortable we can fill that job."
Officially, that was the extent of the Tigers' outlook on the role. Both Leyland and team president/general manager Dave Dombrowski said they determined Kobernus wasn't going to make the 25-man roster, and after talks with the Nationals, they couldn't work out a trade. Clearly, however, Tuiasosopo had moved ahead.
"There were a lot of things we saw that we liked about him," Dombrowski said in announcing the move. "We just have somebody ahead of him, is what it comes down to."
The move came just hours after Leyland all but ruled out Avisail Garcia winning a job on the Opening Day roster.
"I think it would be fair to say the timing of [Garcia's right heel] injury probably put a little bit of a damper on him," Leyland said Saturday morning. "He's probably not going to get enough time [before the end of camp]."
That would leave Tuiasosopo as the only extra outfielder in camp who bats right-handed. The Tigers still have a week left in camp to scan the trade market and waiver wire for options from other teams, a move that might not come until the last minute.
"No final decisions," Dombrowski said. "We still can make moves, but we just didn't see [Kobernus] making our club at this point."
As a Rule 5 pick, the Tigers couldn't send Kobernus to the Minor Leagues without offering him back to the Nationals first for $25,000, half the money the Tigers paid to acquire him out of the Rule 5 Draft back in December.
Kobernus looked like he had a great chance to make the team two weeks ago, getting off to a torrid start at the plate. Since then, his batting average has plummeted -- and his playing time in turn -- amidst a 1-for-16 slump. He ends camp at 11-for-50 (.220) with two triples, no homers, three RBIs, five walks and seven strikeouts. He went 0-for-2 on stolen-base attempts.
Tuiasosopo, meanwhile, continued his late spring charge with two solid at-bats against lefty Andy Pettitte on Saturday, including a walk and a solidly hit lineout to center, before adding an RBI single through the middle off right-handed reliever Cody Eppley.
"He did all right," Leyland said. "I thought he had a good at-bat off of Pettitte the first time, when he walked."
The decision on Kobernus has ramifications for the other open bench spot. The Tigers drafted Kobernus in December as a potential speed option on their bench, similar to the role Quintin Berry filled at times last season when he wasn't starting. Though the Tigers consider Tuiasosopo a decent runner and a good athlete, it's difficult to envision him as a late-inning pinch-runner. If Detroit is still making speed a priority, Berry's chances of making the Opening Day roster might have just increased.
Kobernus was one of two Rule 5 Draft picks in Tigers camp. The other, left-hander Kyle Lobstein, is still in camp, though his struggles appear to make him a long shot to crack the Opening Day roster.
Jason Beck is a reporter for MLB.com. Read Beck's Blog and follow him on Twitter @beckjason. This story was not subject to the approval of Major League Baseball or its clubs.