Rondon shows stuff vs. heart of Nats' order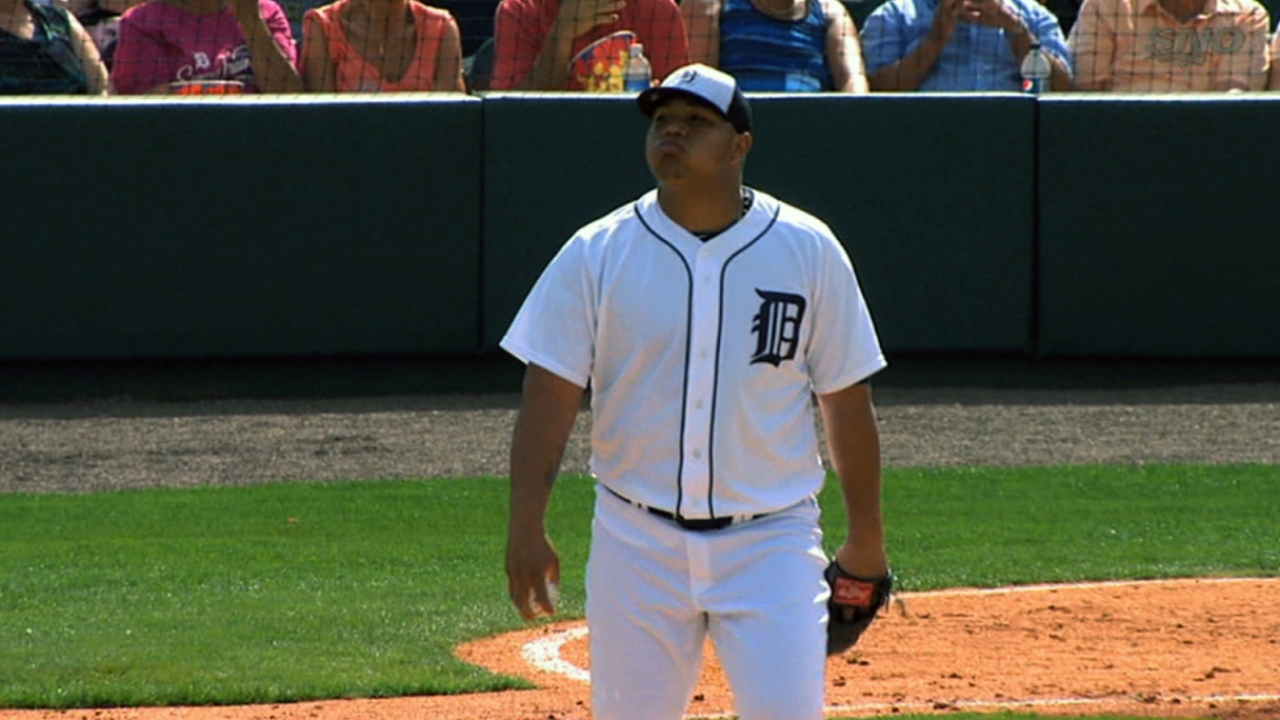 VIERA, Fla. -- If Bruce Rondon needed a showcase for his closer bid, he couldn't have asked for a better one than Monday. Neither could the Tigers. If facing the middle of the Nationals' order wasn't enough, pitching immediately before the top closer on this past winter's free-agent market was.
Both situations made Rondon's ascension look good. It's still worth warning that it's just Spring Training, but Rondon's third consecutive scoreless, hitless inning eased a little more of the unrest surrounding his case to open the season in the big leagues.
Tigers manager Jim Leyland said last week he wanted to see more swings and misses from hitters against Rondon. He also wanted to see Rondon against a good gathering of Major League hitters, which is why Leyland moved Rondon back to middle-inning work a few days ago after a few late-inning outings against the back end of teams' rosters. Once Max Scherzer finished the fifth inning by striking out Washington leadoff man Denard Span, Leyland had the situation he wanted.
"We've been changing it up a little bit with him," Leyland said. "Today, we put him in there against what we thought would be a good lineup, and was a good lineup, obviously."
Rondon used an offspeed pitch to induce a second-pitch groundout from Jayson Werth, then put Bryce Harper in an 0-2 hole before trying to finish him off with fastballs and sliders. Once Rondon missed with back-to-back sliders to run the count full, he went back to the fastball just off the plate, giving him his seventh walk of the spring.
Rondon went back to work for back-to-back strikeouts of Ryan Zimmerman and Adam LaRoche. Once Zimmerman went down swinging at a changeup, Rondon went heavily to the fastball, including a full-count heater to retire LaRoche and strand Harper on second.
Rondon has five scoreless innings with four hits and two walks allowed, and nine strikeouts, since working with pitching coach Jeff Jones to tweak his delivery.
"He's been a little better," Leyland said. "He's used his pitches a little bit more. He's obviously been better."
Rafael Soriano, who was linked in rumors to the Tigers early in the offseason before team officials denied interest, then replaced Nationals starter Jordan Zimmermann to begin the seventh inning. Five line-drive singles into the outfield yielded four Tigers runs. Unlike Rondon, however, Soriano has reportedly been building his velocity gradually this spring, a luxury an established closer can have when he isn't in a job competition.
Jason Beck is a reporter for MLB.com. This story was not subject to the approval of Major League Baseball or its clubs.