Tuiasosopo opening eyes with impressive power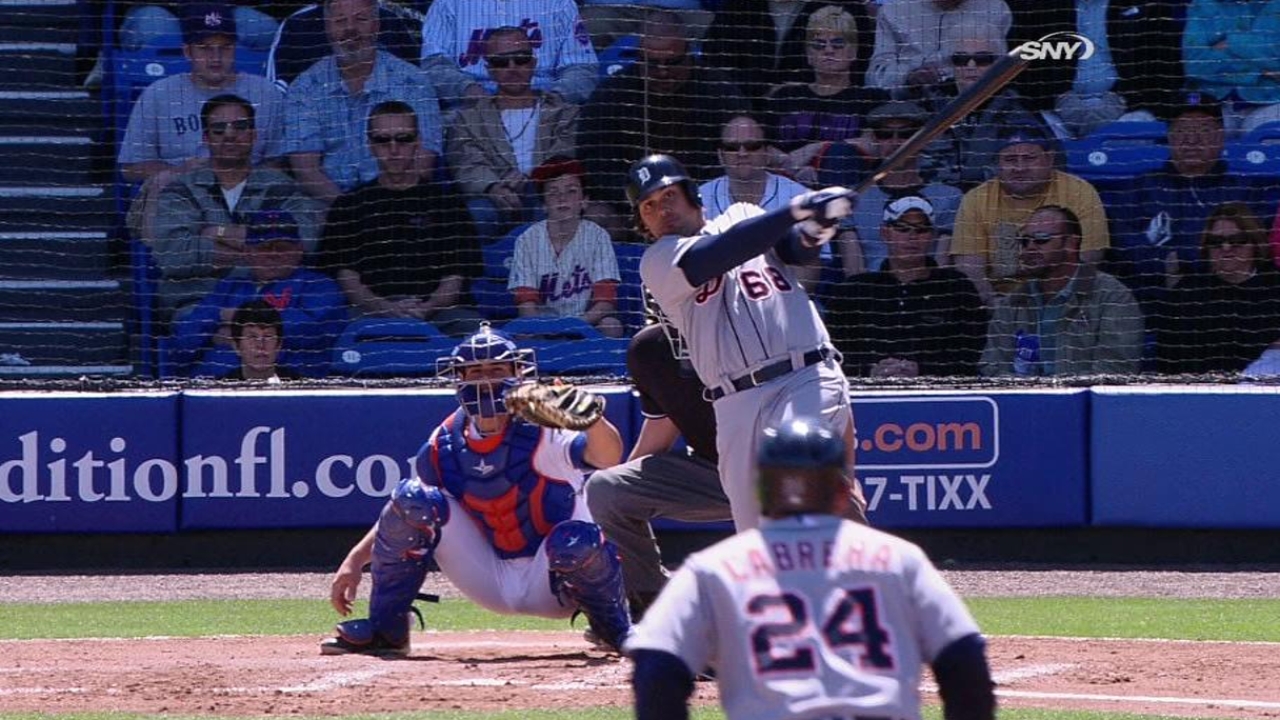 LAKELAND, Fla. -- Matt Tuiasosopo says he isn't doing anything differently this week than what he was doing for two weeks prior. He's the same hitter he's always been. There are no major adjustments to explain the tear he has found himself on over the last seven days.
It's just that every ball he hits now seems to travel 400 feet to left field.
"The more you're getting out there, you start getting comfortable in the box, you start getting into your rhythm," Tuiasosopo said after hitting his third home run in four days and just missing another in Sunday's 12-10 loss. "Early on, I was maybe pressing a little too much, trying to really show them what I can do. So I just had to go out there and trust the ability God has given me."
It's not just the home runs. When he followed his two-run homer with a double off the left-field wall in the ninth inning, he had his fourth multi-hit game in his last five contests. In the other game, he only had one at-bat.
After going 0-for-14 with no walks and seven strikeouts to start the spring, Tuiasosopo looked destined among the first cuts to Triple-A Toledo. Once he doubled in the ninth inning of a March 4 win over Houston, he flipped the switch.
Since then, he's 11-for-20 with five doubles, three homers, eight RBIs, seven runs scored, four walks and five strikeouts.
It's a good sense of timing. He's a right-handed hitter who can play the infield and outfield and is now on a Spring Training tear for a team that's looking for a right-handed hitter to carry as a reserve outfielder. That search is one reason why he took a Minor League deal, knowing the Tigers had a lot of left-handed hitters.
"I just wanted to come into spring and have fun, show them what I can do, play in the infield, outfield," Tuiasosopo said earlier in the week. "They've got lefty hitters in here, so maybe I can be the right-handed bat for them, show them the versatility and have fun with it. I don't know what's going to happen, but I can come in here and all I can control is how I work in the game and whatever happens, happens."
Tuiasosopo was so far down the pecking order coming into Spring Training that he left camp to be with his wife for the birth of their first child and it was hard to notice he wasn't around. Wife and baby Josiah are in Florida with him now, doing well. He's doing better, and he's getting enough attention that his name at least comes up among guys in the mix for a 25-man roster spot.
It's still a long shot. Jeff Kobernus bats right-handed as well, plays the outfield and provides the speed factor the Tigers want off their bench. Detroit still has another roster spot to play with after backup catcher Brayan Pena and utility infielder Ramon Santiago, but that would seem more likely for a left-handed hitter if Detroit carries another bat.
The counterbalance to the spring tear, of course, is his history in the Minor Leagues, which is what left him a Minor League free agent. He's a .260 hitter over nine years in the Minors, having hit .226 and .242 over the last couple years with 249 strikeouts in 857 at-bats. And the Eric Patterson saga last spring shows how torrid springs can fizzle out.
Still, the more Tuiasosopo hits, the longer he gives himself a chance.
"I'm at peace," he said. "I can't control what they decide."
Jason Beck is a reporter for MLB.com. Read Beck's Blog and follow him on Twitter @beckjason. This story was not subject to the approval of Major League Baseball or its clubs.