Moya impressive in exhibition game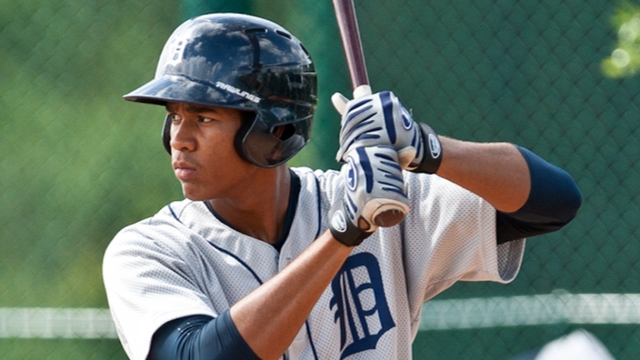 LAKELAND, Fla. -- With a Major League team facing a Division II college program, there aren't many impressions to be made. Steven Moya, however, stood out with his 3-for-3, three-run performance. He isn't anywhere near threatening the big leagues, but his talent is evident.
Moya was one of the outfielders the Tigers brought over from Minor League camp to enter Wednesday's exhibition against Florida Southern once the starting lineup had left. At 6-foot-7 and 229 pounds, he's hard to miss.
With a single, double and triple Wednesday, he would've been tough to miss regardless of his size.
"He's a real talent that got hurt last year," manager Jim Leyland said. "He's a prospect. He's a good one. That's where he stands right now, but he's an impressive young man."
Team president/general manager Dave Dombrowski also mentioned Moya earlier in the day when talking about the organization's outfield depth. He's ranked by MLB.com as the organization's No. 11 prospect.
He had Tommy John surgery to repair a ligament tear he suffered in his right elbow on a throw from right field last year. He was batting .288 at the time at low Class A West Michigan with 14 doubles, three triples, nine home runs and 47 RBIs.
Now, the 21-year-old says he's ready to go.
"In the offseason, I was here in Lakeland working out, rehabbing and trying to get back," Moya said. "Everything's good, thank god. Everybody told me it was going to take nine months, a year. I said, 'No, it's not going to happen. I'll be back soon.' Now I'm here, playing again, thank god."
Jason Beck is a reporter for MLB.com. Read Beck's Blog and follow him on Twitter @beckjason. This story was not subject to the approval of Major League Baseball or its clubs.