Trammell, Morris on Modern Era HOF ballot
Tigers greats among 10 to be considered by committee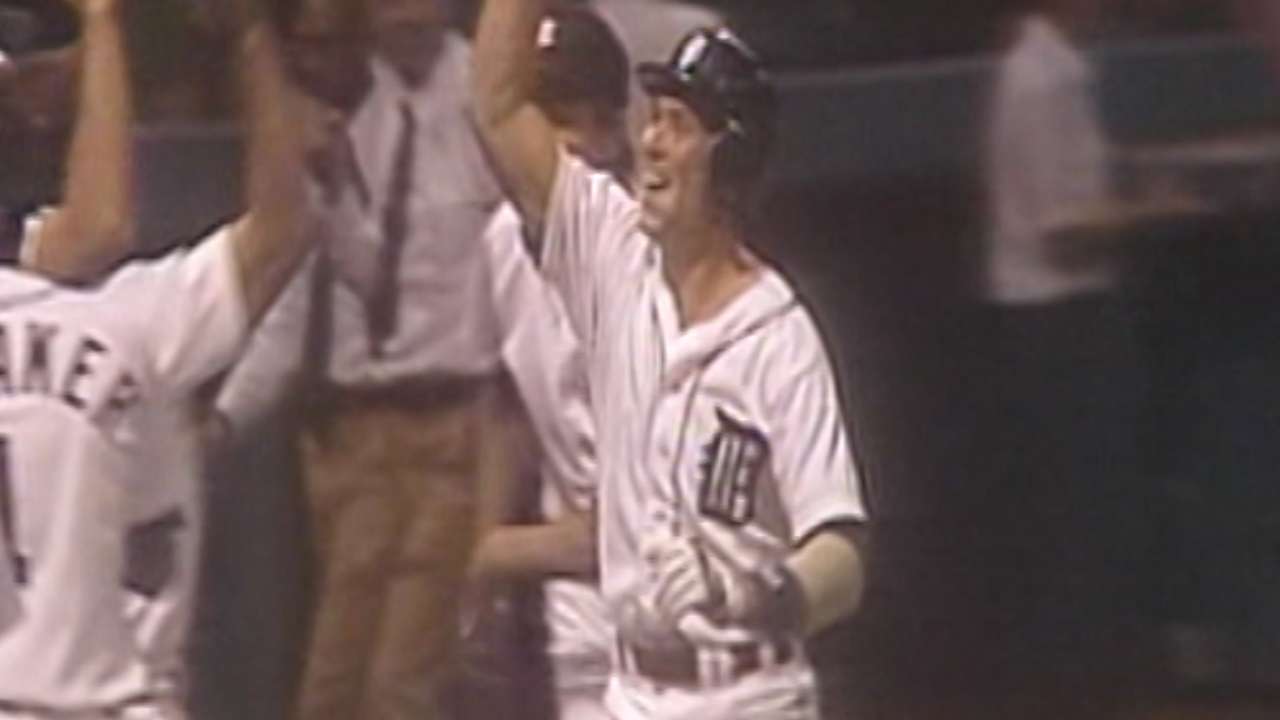 DETROIT -- Alan Trammell and Jack Morris will get another chance at induction to the National Baseball Hall of Fame. The former Tigers greats are on the 10-person Modern Baseball Era ballot that will be considered by a 16-person committee at next month's Winter Meetings.
The committee is part of the Hall's effort to give a second look at players who are not elected by voting members of the Baseball Writers' Association of America. It has long been anticipated as the best chance for Trammell and Morris, both of whom lasted the maximum 15 years on the ballot but did not receive the 75-percent vote needed for induction.
"The Detroit Tigers congratulate Jack Morris and Alan Trammell on their selections to the National Baseball Hall of Fame's 2018 Modern Baseball Committee ballot," the team announced in a statement. "Tradition and history are the foundation of this organization -- something that Jack and Tram spent many years building during their time wearing the Olde English 'D.' The two were teammates on the Tigers' 1984 World Series Championship Team and combined for 11 All-Star Game appearances. We're confident that the committee will see fit for Jack and Tram to be enshrined in Cooperstown."
11 All-Star Appearances
1984 World Series Champions

We're behind you Jack and Tram! pic.twitter.com/LOtSnCGMJj

— Detroit Tigers (@tigers) November 6, 2017
Others on the ballot include fellow ex-players Steve Garvey, Tommy John, Don Mattingly, Dale Murphy, Dave Parker, Ted Simmons and Luis Tiant. Marvin Miller, longtime director of the MLB Players Association, rounds out the ballot.
Another former Tigers great, Lou Whitaker, was left off the ballot by the Hall's Historical Overview Committee, comprised of 11 veteran baseball writers and historians. Trammell had been hoping to be considered for induction alongside his longtime double-play partner, who lasted only one year on the BBWAA ballot and received votes on less than five percent of ballots.
A different committee, which will be announced later this fall, will vote on the ballot next month; a candidate must receive 75 percent of the vote for induction. Results will be announced on MLB Network at 6 p.m. ET on Sunday, Dec. 10.
It's a chance at Cooperstown redemption for the 1984 Tigers, who have no players in the Hall despite one of the greatest seasons in modern history between a 35-5 start, 104 regular-season wins and a World Series title. Their manager, Sparky Anderson, was selected to the Hall in 2000. No player has been inducted as a Tiger since Al Kaline was a first-ballot Hall of Famer on the writers' ballot in 1980.
By judging players according to their era -- in this case, the modern era judges players whose biggest impact occurred between 1970-87 -- the committee's field is narrowed. This is the first year for the Modern Era ballot, which will come up again in two years.
The closest Tiger in terms of votes was Morris, whose status as the winningest pitcher of the 1980s and three-time World Series champion with Detroit, Minnesota and Toronto earned him increasing consideration in recent years, peaking with votes on 67.7 percent of the votes cast in 2013. For many Michiganders, though, the more arguable snub was Trammell, despite topping 40 percent in votes only once, in his final year on the ballot.
In Trammell's first year on the ballot, his contemporary, Ozzie Smith, became a first-ballot Hall of Famer, while Trammell received just 15.7 percent of vote. Mention the Wizard of Oz around Detroit, and the memories are as much about the ballot as the backflips.
A decade later, the frustration renewed with Barry Larkin. When Larkin appeared on the ballot, it was a boon for Trammell's support, because the similarities were unavoidable, down to near-identical Wins Above Replacement totals. However, Larkin had more votes from the outset, and he was inducted in his third year on the ballot.
The field of candidates is much smaller now, and Trammell's statistics stand out. His 70.4 WAR, according to the baseball-reference formula, tops the field and ranks 93rd all-time. That said, Whitaker's 74.9 WAR by the same formula would also lead the field if he was in it.
Trammell spent his entire 20-year career with the Tigers, earning six All-Star selections, four Gold Glove Awards and three Silver Slugger Awards. He was named the World Series Most Valuable Player in 1984, and he finished second in American League MVP Award voting in '87.
Jason Beck has covered the Tigers for MLB.com since 2002. Read Beck's Blog, follow him on Twitter @beckjason and Facebook. This story was not subject to the approval of Major League Baseball or its clubs.