Miggy the Candyman: Slugger unveils snacks
DETROIT -- The first words from Miguel Cabrera as he stood at the podium Friday were that his left oblique is improving.
"I feel better," Cabrera said. "Hopefully I'm back on the field soon."
Sure enough, Cabrera took swings in the batting cage on Friday afternoon, was available to pinch-hit in a series-opening 5-3 loss to the Rangers and could start at designated hitter on Saturday.
"Ideally, I'd like him to have another full day and night to rest, but I'd be shocked if he wasn't playing tomorrow," manager Brad Ausmus said on Friday night.
But that wasn't what Cabrera's news conference was about. As he and associates of his new business, Miggy Foods, unveiled their new creation, a candy snack called Bitbits, the former American League Triple Crown winner and two-time AL Most Valuable Player Award winner was looking at life both beyond and after baseball. This is Cabrera the businessman, looking to spread his reach outside the ballpark and into the supermarket aisle.
Bitbits are peanuts or crispy rice treats coated in flavors like milk chocolate and strawberry shortcake. They're available immediately at Comerica Park, where the Tigers and Miggy Foods have a multi-year partnership that includes advertising signage on the outfield and dugout walls.
The snacks will be distributed around Michigan by Lipari Foods. They're expected to appear soon at supermarkets such as Kroger and Meijer, and should soon be distributed at CVS.
Miguel Cabrera press conference introducing bitbits, a new snack food by Miggy Foods. pic.twitter.com/HLoCCbMyOv

— Jason Beck (@beckjason) May 19, 2017
It's an idea three years in the making, and it could soon include candy bars and breakfast cereals. Cabrera is a part-owner in Miggy Foods and helped put a headquarters in Miami and a manufacturing plant in Brazil.
"I see this and I see something safe," Cabrera said. "I see something I can do. I see something I can feel good about, I can feel happy about doing. When I finish my career, I don't want to do baseball. I want to do something else. I live for this, I live for baseball, but after that, I want to do something. And when they showed me the project, they showed me everything, right away I said yes."
Cabrera's not thinking about retirement any time soon. Despite his injuries this year -- from a sore back in Spring Training to a right groin strain a month ago to his left oblique now -- he doesn't believe he's breaking down yet physically. His time out of the lineup has been brief, and he expects his latest malady to be the same.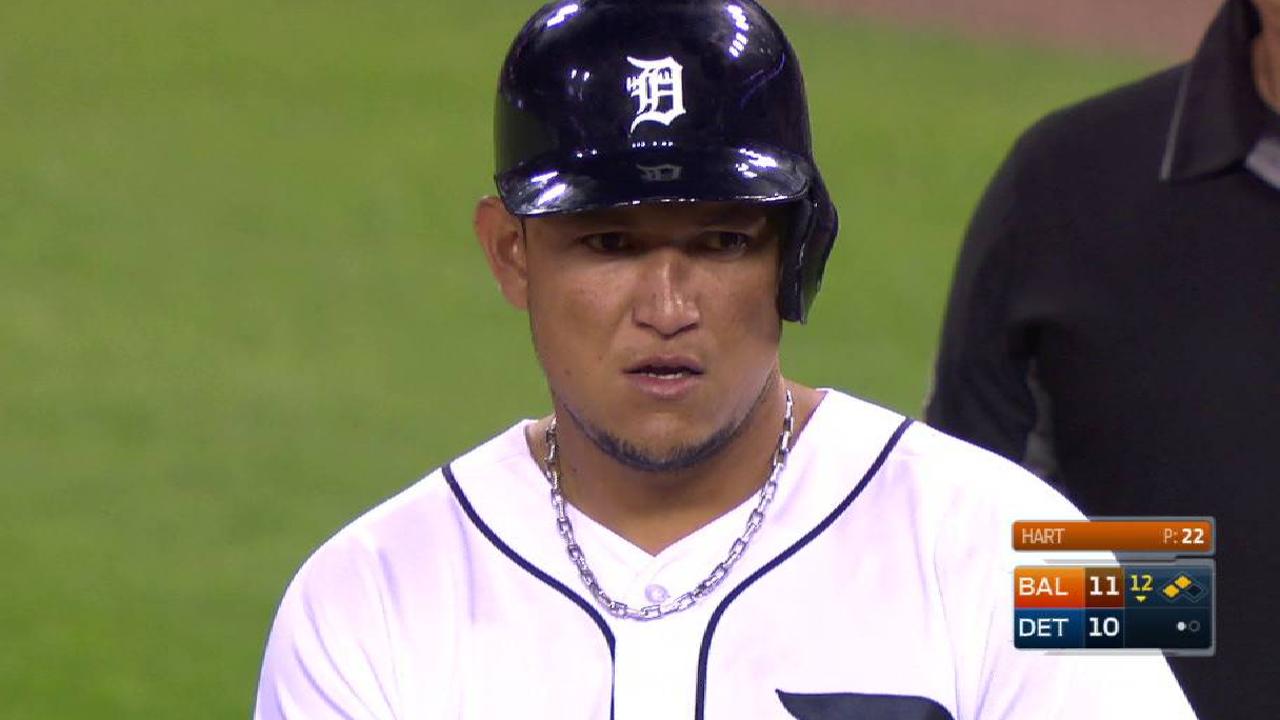 "I was supposed to miss two weeks with the groin injury and after the third day, fourth day, I was good," Cabrera said. "With this, too, I said, 'Don't put me on the DL. Don't do anything, because I know I'm going to be ready in three or four days.'"
Still, Cabrera admits that he has a tougher time recovering for day games after night games.
Asked how long he thinks he can play, Cabrera said, "The contract says to 40. Hopefully I can play to 40. I want to play to 42, 43. If I drive in runs, I think I'm going to have a job. If I can still hit the ball when I'm 41, 42, that gives me a chance."
Cabrera could have a few business interests by that point. His baseball career gives him the combination of wealth and fame, and he believes social media gives him a chance to market.
"I think right now, it's easier to open a company because you don't have to go to the TV to do a commercial," Cabrera said. "With your phone, you do it, and that's it, and you got it to a lot of people. I think right now, it's easier to market your product. Why not take the chance to do it? Let's do it. I won't be afraid. I'm not scared. I like it."
Jason Beck has covered the Tigers for MLB.com since 2002. Read Beck's Blog, follow him on Twitter @beckjason and Facebook. This story was not subject to the approval of Major League Baseball or its clubs.