Zimm throws O's a curve in breakthrough start
After rocky stretch, righty fans 6 for first time in over a year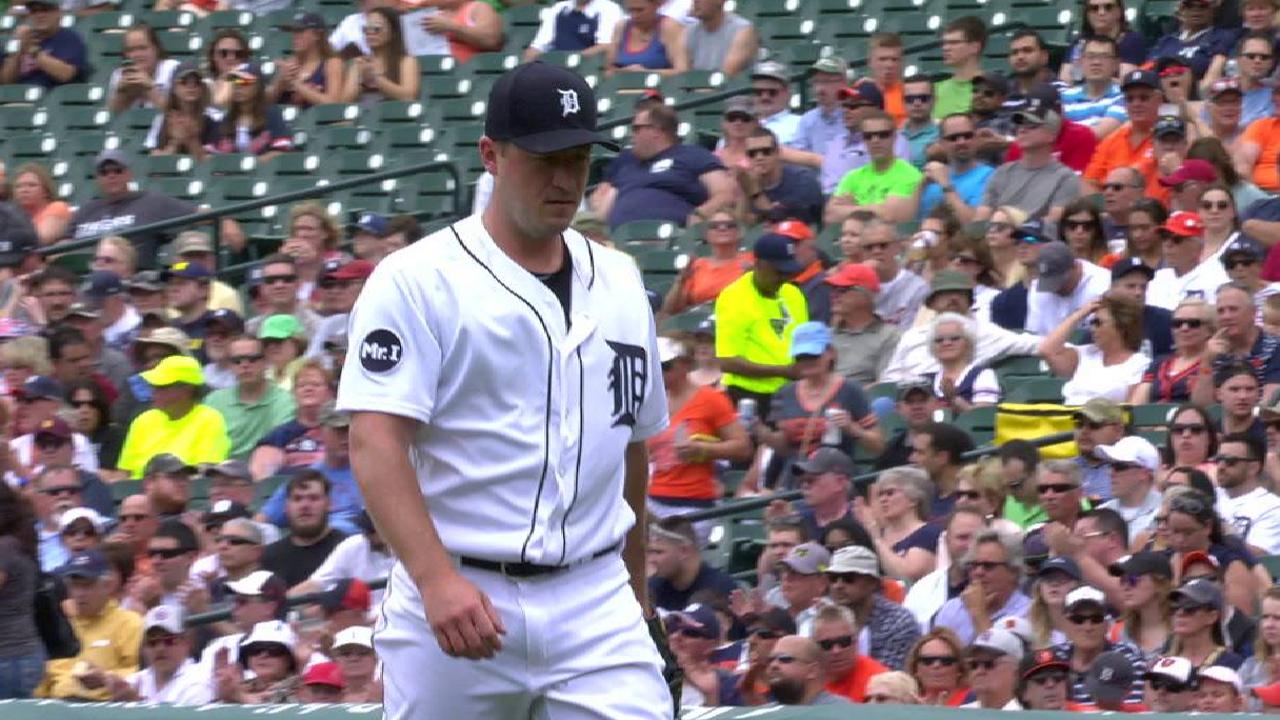 DETROIT -- A year and two days had passed since Jordan Zimmermann last struck out six batters in a game. So had a neck injury, a frustrating rehab process, a visit with a specialist, a nerve block and a long Spring Training.
Even if a half-dozen strikeouts didn't mark the return of the old Zimmermann, it was a step worth noting for him over six innings in a 6-5 Tigers win over the Orioles on Thursday at Comerica Park. He has had the velocity much of the season, and the movement sometimes, but not the deception. This was the first real sign he could get it back.
"I felt good," Zimmermann said. "The ball's coming out better and better every time. I just have to keep working on the slider, and hopefully the curveball stays around, and it's going to be fun to pitch the rest of the year."
The curve was the key for Zimmermann on Thursday. It's usually his third-best pitch after his fastball and slider, but with the latter looking flat, the curve became his secondary pitch of choice. All six strikeouts came on curveballs. Trey Mancini swung and missed at two of them in the first two innings. Ryan Flaherty took one on the outside corner, then swung-and-missed at another.
Zimmermann threw 34 curveballs and garnered eight swinging strikes, according to Statcast™. His other 68 pitches drew two swing-and-misses and two foul tips.
"He had a really good curveball today," manager Brad Ausmus said. "I thought his slider came and went, but I thought his curveball was the best curveball he's had all year."
It wasn't anything he was working on, Zimmermann said. It just worked.
"It was by far the best all year," Zimmermann said. "The slider's been hit-and-miss. It's been a little hard, been a little flat. Curveball was a pitch that I threw early and stuck with it, mixed in a few sliders along the way. Once the curveball was really good, the slider doesn't have to be as good. I have a few different change of speeds."
Jason Beck has covered the Tigers for MLB.com since 2002. Read Beck's Blog, follow him on Twitter @beckjason and Facebook. This story was not subject to the approval of Major League Baseball or its clubs.