Tigers place Iglesias on 7-day concussion DL
Detroit also options Saupold and recalls Jimenez, Hardy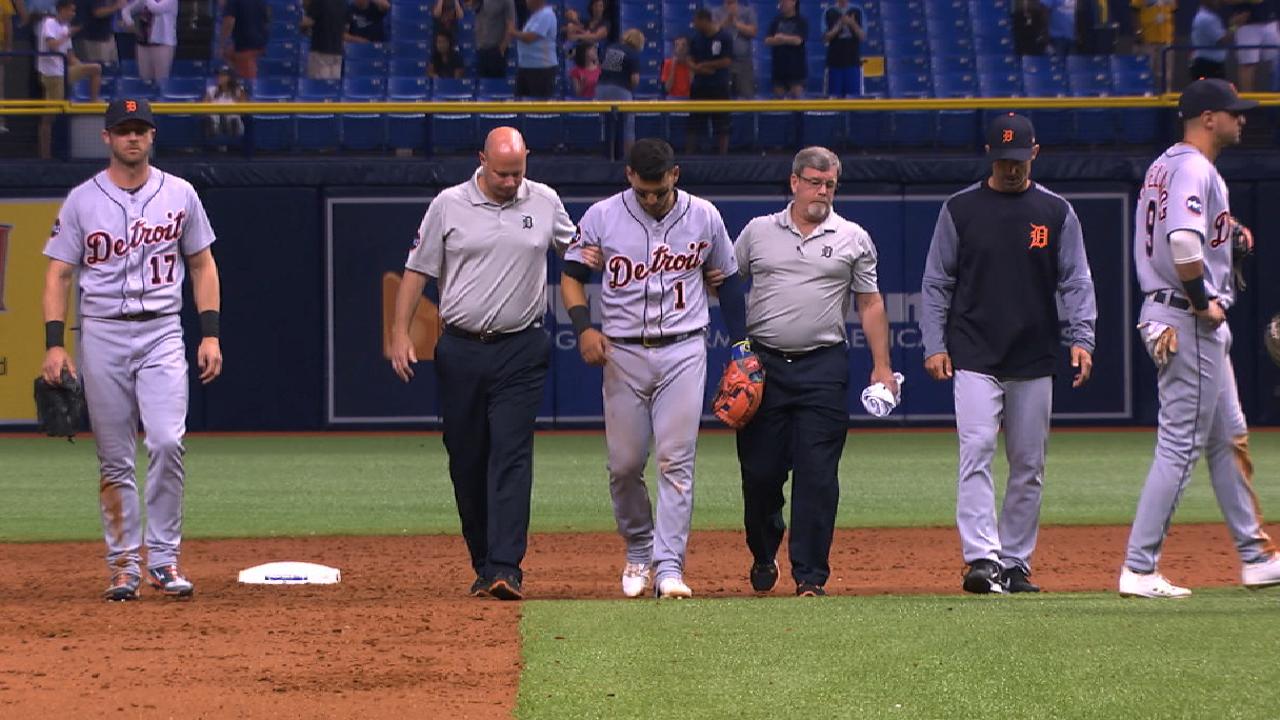 MINNEAPOLIS -- The Tigers placed shortstop Jose Iglesias on the seven-day concussion disabled list on Friday, two days after he collided with Rays baserunner Brad Miller at second base while trying to turn a double play. Right-handed reliever Joe Jimenez was recalled from Triple-A Toledo.
The move is retroactive to Thursday, meaning Iglesias is eligible to return for next Thursday's series finale against the Mariners at Comerica Park if he clears Major League Baseball's concussion protocol. Iglesias is still dealing with light headaches, but he expects to be ready.
"Yeah, absolutely, if there's nothing new," Iglesias said on Friday. "I'm progressing on a regular basis."
The Tigers also made another bullpen move, optioning right-hander Warwick Saupold to Triple-A Toledo and recalling left-hander Blaine Hardy.
Iglesias' injury occurred on the final play of Wednesday's loss to Tampa Bay, with the bases loaded and one out. Iglesias was trying to finish a Detroit win with a double play, but he tripped at second base. He threw from his knees, trying to get the out at first, but he fired wide as the winning run rounded third, and his head collided with Miller's leg on the follow-through.
"I reached for the throw and I stuck on the base, so I fell down," Iglesias said. "And then at that point [there was] nothing [I could] do. I couldn't get out of the way at all. I just tried to make a play and I got hit.
"I got hit right in the face with Miller's knee, and after that, things were spinning around. It was just not fun."
Iglesias said that Miller sent a message through former Rays outfielder and current Tiger Mikie Mahtook.
"He told Mikie that he feels sorry about it," Iglesias said. "But he did everything right. It just fell in the wrong place, that's all."
The Tigers sat Iglesias on Thursday to monitor his symptoms but ultimately decided to place him on the DL. Andrew Romine started at shortstop on Friday and will share starts with Dixon Machado. Romine has also been part of Detroit's center-field mix.
For now, with the Tigers' bullpen taxed, the team will use the roster spot to bolster their relief corps with Jimenez, their top bullpen prospect and the No. 5 prospect in their system. Detroit's widely recognized closer of the future had a brief callup last week and tossed a perfect ninth inning in a loss to the Twins last Thursday before being optioned back to Triple-A Toledo.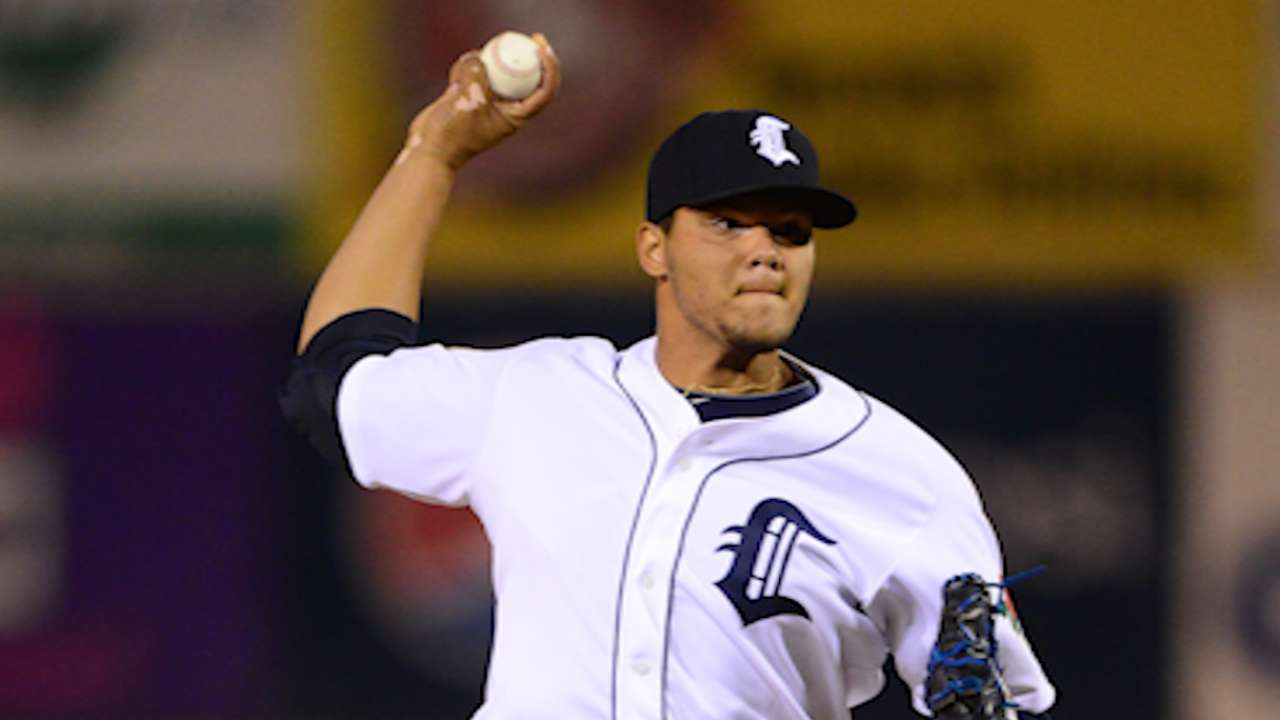 He could see more opportunity this time around, and in a closer situation.
"We have to find a way to get through the seventh inning to get to [Justin] Wilson and Frankie [Rodriguez]," manager Brad Ausmus said. "You may see him in a closer game in the sixth, maybe the seventh."
By rule, Jimenez normally would not have been eligible to return until next week, but those rules don't apply when a player is replacing somebody on the DL. The recently promoted player doesn't necessarily have to be the one moved when the injured player returns. Thus Jimenez could stay when Iglesias is ready to come back.
Detroit sent down Jimenez last week to make room for long reliever Saupold, who tossed the final few innings of Thursday's loss to the Rays.
Jason Beck has covered the Tigers for MLB.com since 2002. Read Beck's Blog, follow him on Twitter @beckjason and Facebook. This story was not subject to the approval of Major League Baseball or its clubs.