Verlander has arsenal ready for season
Tigers ace retires 15 straight Braves, feels he's ahead of where he was last year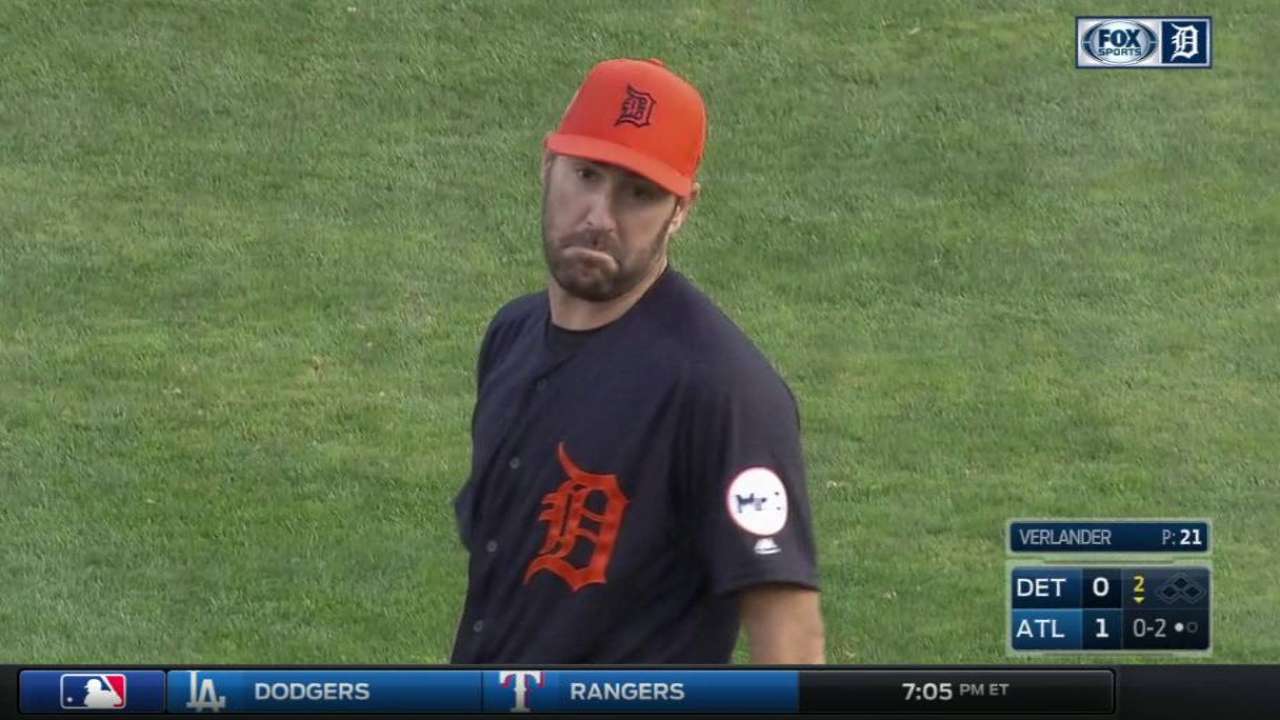 LAKE BUENA VISTA, Fla. -- Justin Verlander came to Spring Training six weeks ago with a goal to get himself closer to top form around Opening Day and avoid the first-half struggles that slowed his 2016 season. He won't know for sure how well he did that until he takes the mound at U.S. Cellular Field in Chicago in a week and a half, but he at least has given it his best shot.
Verlander's slider still isn't quite where he wants it, and he hasn't fired those fastballs at 97-plus mph yet. He didn't summon the latter Thursday evening during his 12-pitch battle with Freddie Freeman that ended with a 95-mph fastball that Freeman lined over the right-field fence.
Short of that, however, Verlander has his arsenal ready.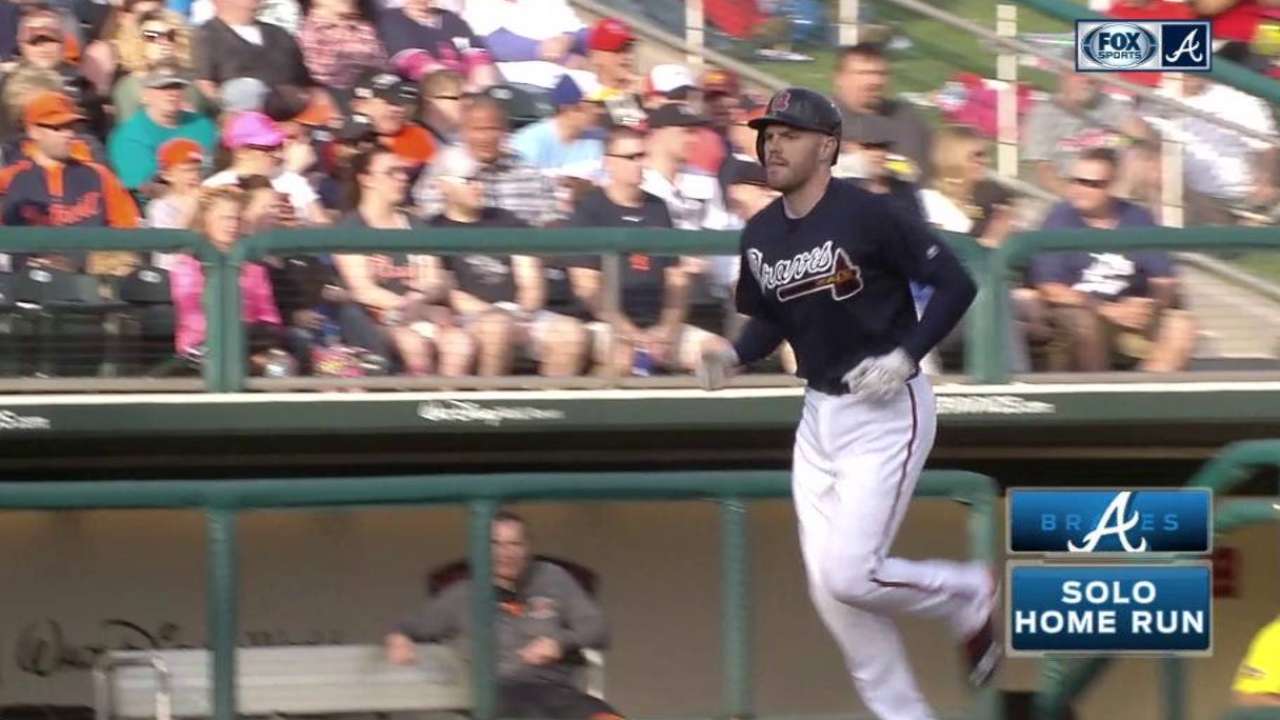 "I think I'm in a better position, yeah," Verlander said after his six innings of one-run ball in a 2-1 loss. "I'm kind of historically somebody who doesn't really lock everything in until the later part of April, early May. Last year was kind of June and July. That's too long.
"But look, I'm doing everything I can. I'm out there working on everything. Hopefully when they put that second deck on the stadium, everything kind of clicks. When you stop worrying about what you're doing and worrying about how you're doing, it's kind of different."
Verlander retired 15 batters in a row after that showdown with Freeman. He had three innings that lasted fewer pitches than that one at-bat. After just two swing-and-misses over his first three innings, he had six over his final three frames, five of them off a fastball that sat at 95 mph most of the night.
At 76 pitches over six innings, he was so efficient that he walked down the left-field line to the bullpen and threw another 15-20 pitches.
"Body's strong. Arm feels good," Verlander said. "I think overall, I'm probably slightly ahead of where I was here last year, I would think. The ball's definitely coming out of my hand better now than it was last year. Obviously, I would like to see those 97s and 98s, but I don't know if I've ever been that guy in Spring Training. I think last year I kind of hovered around 91-92 with a couple, and it seems to be coming out a little better than that this year."
If it was just about how his body feels, though, he probably would've stayed back in Lakeland and thrown in a Minor League game. He made his way up Interstate 4 and dealt with traffic on the way back so that he could see the reactions of veteran hitters like Freeman, Matt Kemp, Ender Inciarte, Brandon Phillips and Nick Markakis.
The result was more of the same. Freeman's homer is the lone run Verlander has allowed over his last three starts, covering 15 2/3 innings with seven hits allowed, one walk and 12 strikeouts.
"He's been good," manager Brad Ausmus said. "There's no other way to describe it."
Verlander wants the same reaction in a week and a half.
Jason Beck has covered the Tigers for MLB.com since 2002. Read Beck's Blog, follow him on Twitter @beckjason and listen to his podcast. This story was not subject to the approval of Major League Baseball or its clubs.