Challenge laid out for Castellanos to bat 2nd
Ausmus wants young 3rd baseman to maintain consistent approach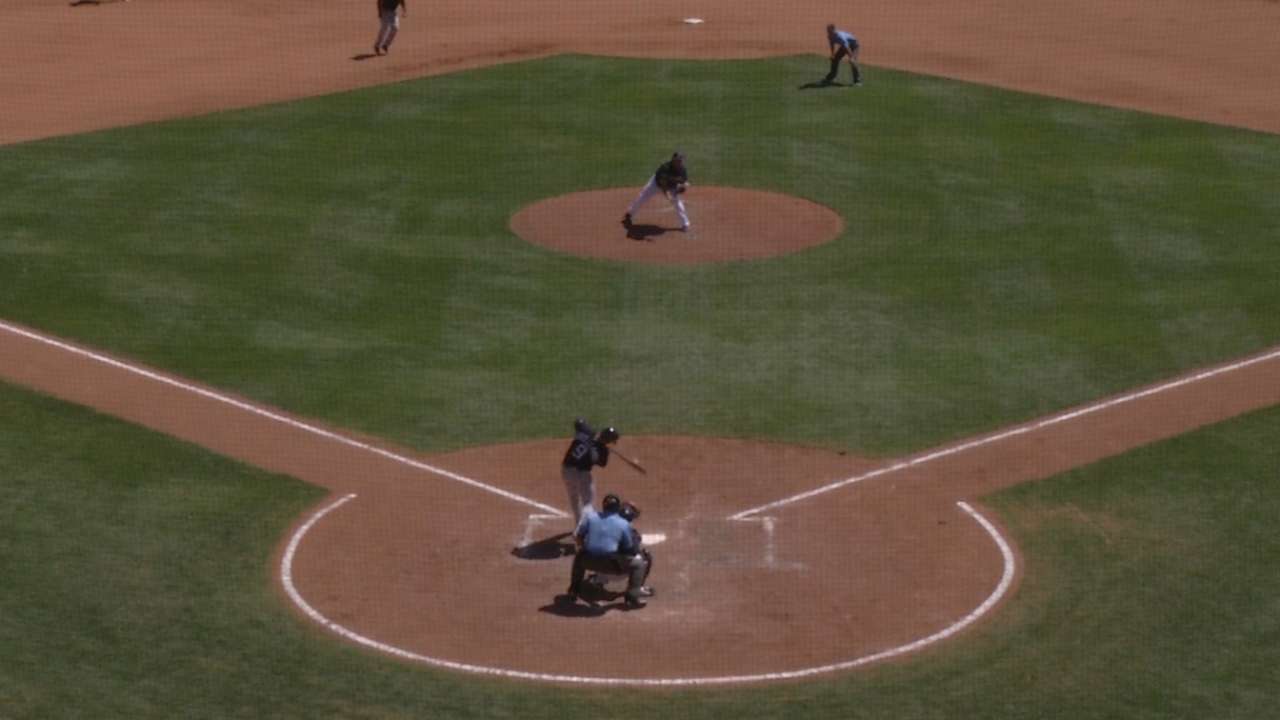 LAKELAND, Fla. -- Tigers manager Brad Ausmus hasn't yet granted Nicholas Castellanos the precious real estate of his batting order, the open second spot in front of Miguel Cabrera.
"Nick hasn't hurt his case, I'll say that," Ausmus said.
• Spring Training: Info | Schedule | Tickets | Gear
But as Ausmus plots out his lineup with Opening Day looming in two weeks, he has seemingly found the reward he can use to push his young slugging third baseman to mature into the type of hitter the manager believes he can be in his fourth full Major League season -- the type of hitter who can benefit from the run-scoring opportunities and percentage of strikes from that No. 2 spot.
"Nick's done a lot of things well," Ausmus said. "He's hit the ball. He's run really well. He's been aggressive on the bases. And I know he wants to hit second. But he can't just do it for six weeks in Spring Training. You have to do it when the season starts for 162 games.
"... I'm not wary of it. I think in his mind, he wants to hit second, and he's going about his business the right way. It's easy to do for six weeks or seven weeks in Spring Training. It's hard to maintain that for six months."
In other words, Ausmus wants Castellanos to maintain a consistent approach, mechanically and mentally. It's similar to the process the manager's predecessor, Jim Leyland, went through with a young Miggy.
As gifted of a hitter as Cabrera was upon his arrival in 2008, he needed consistency to finish it off. Leyland pushed Cabrera for a couple of years to not give away at-bats, to not give in on bad pitches. Once that message resonated, Cabrera vaulted from a great hitter to the best in the game.
To compare Castellanos to Cabrera is unfair, but Castellanos' spring has shown the potential the Tigers saw when they drafted and signed him to a lucrative contract in 2010.
"He has been a lot more selective at the plate, not chasing out of the zone as often," Ausmus said. "That has to carry through. I mean, he's going to have his days. He's been aggressive on the bases. That has to carry through. You don't just do that and earn the two-hole in the lineup. You do that, earn it and then maintain it."
The baserunning was of particular concern to Ausmus when Castellanos talked about wanting the challenge. His aggressiveness to take extra bases on gap hits and score from first or second base has been an effective answer. The challenge rises once the games count and pitchers look to do more than get in their requisite work.
"The running factor, my concerns there have been allayed, so to speak," Ausmus said. "But it has to continue to happen."
Jason Beck has covered the Tigers for MLB.com since 2002. Read Beck's Blog, follow him on Twitter @beckjason and listen to his podcast. This story was not subject to the approval of Major League Baseball or its clubs.