Miggy: Zimmermann 'unbelievable' for Tigers
Righty's season-opening scoreless-innings streak reaches 19 1/3 in win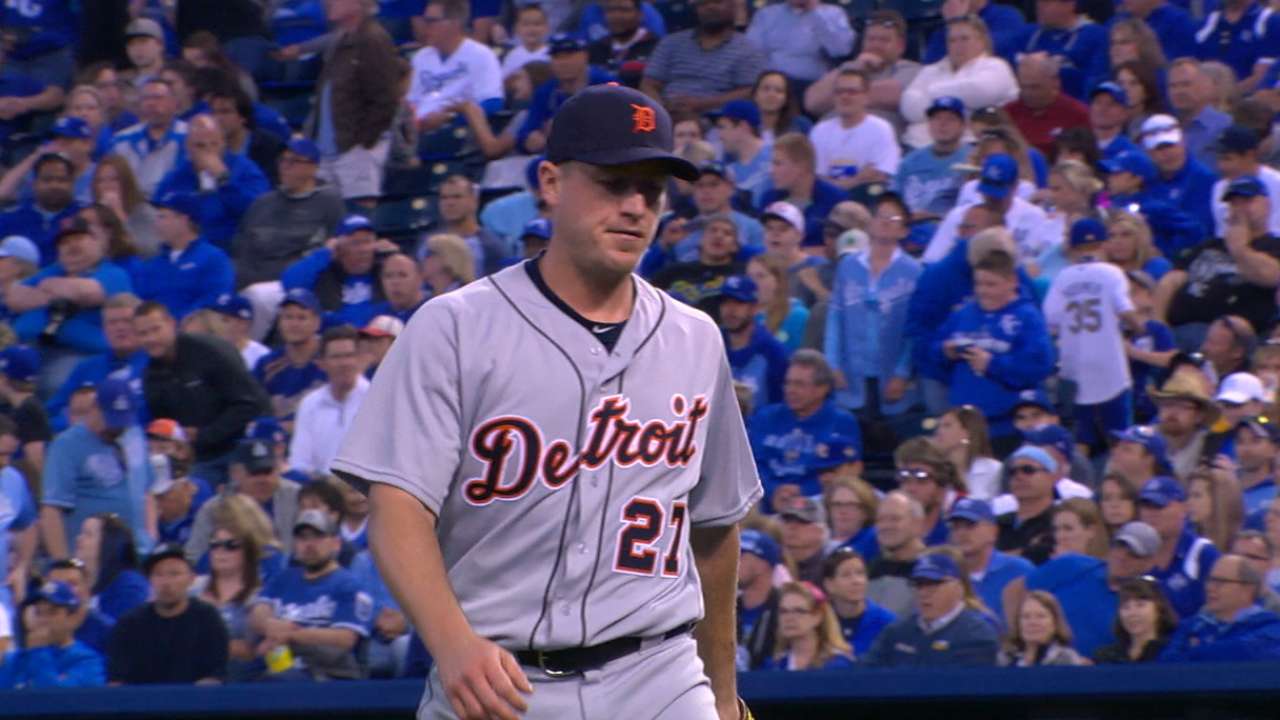 KANSAS CITY -- The numbers are piling up for Jordan Zimmermann. The vast majority of them are zeros, one after the other.
For a new Tiger, Zimmermann's 19 1/3 scoreless innings are the most consecutive scoreless innings to begin a Detroit tenure since midseason relief acquisition Doug Bair in 1983. For a Tigers starting pitcher, new or returning, those scoreless innings by Zimmermann are the most to begin a season in franchise history.
"He's unbelievable," teammate Miguel Cabrera said.
For the 2016 Tigers, Zimmermann's 6 1/3 scoreless innings against the defending World Series-champion Royals meant more for the here and now, helping Detroit take a 3-2 win over the Royals on Wednesday night to even their three-game series.
"Obviously, the pitching for us was what won us the game," manager Brad Ausmus said. "We got some hits here and there. We scored three runs. But Zimmermann did a great job, and the bullpen finished it off."
For Zimmermann, the innings are secondary.
"It's just a number," he said. "I just try to go out there and put up zeros and keep the game close. I try to go with a bend-but-don't-break mentality, and I've been able to do that the last few games."
The Royals made him bend, from a 29-pitch second inning that included three strikeouts to putting two runners on in the fifth, sixth and seventh.
Each time, Zimmermann had an answer. It usually began with strike one.
Nineteen of the 26 batters Zimmermann faced received first-pitch strikes, including 13 batters in a row from the second inning into the sixth. Zimmermann had 0-2 counts on 11 Royals batters. He put Lorenzo Cain in an 0-2 count before picking off Mike Moustakas to end the third inning, then put Cain in another 0-2 count to lead off the fourth.
"He definitely pounds the strike zone," Ausmus said. "He's not afraid of anybody or any situation. He comes right at you. He's got three really good pitches that he can attack righties and lefties with. The fastball sneaks up on hitters. So he's got a few weapons to go to."
Zimmermann not only mixed the fastball, breaking ball and change of speeds as the innings went on, he mixed them to start off hitters. During that streak of first-pitch strikes, he rarely started back-to-back hitters off with the same pitch.
"I had good fastball command, probably for the first time all year," Zimmermann said. "I just felt it, felt the strike zone, and let the guys behind me play defense."
He also had his slider.
"It was good. It had late bite, late life," he said. "I was able to get it in on guys. When it's good like that, it's fun to be out there."
That's something Cabrera is learning.
"You have to pay attention, because he pitches quick," Cabrera said. "Pitch, pitch, pitch. He keeps you in the game. That's good.
"He attacked the zone. He's great. He's aggressive. It's unbelievable. We enjoy playing behind him."
Jason Beck is a reporter for MLB.com. Read Beck's Blog, follow him on Twitter @beckjason and listen to his podcast. This story was not subject to the approval of Major League Baseball or its clubs.