Tigers rally late to reward dominant Simon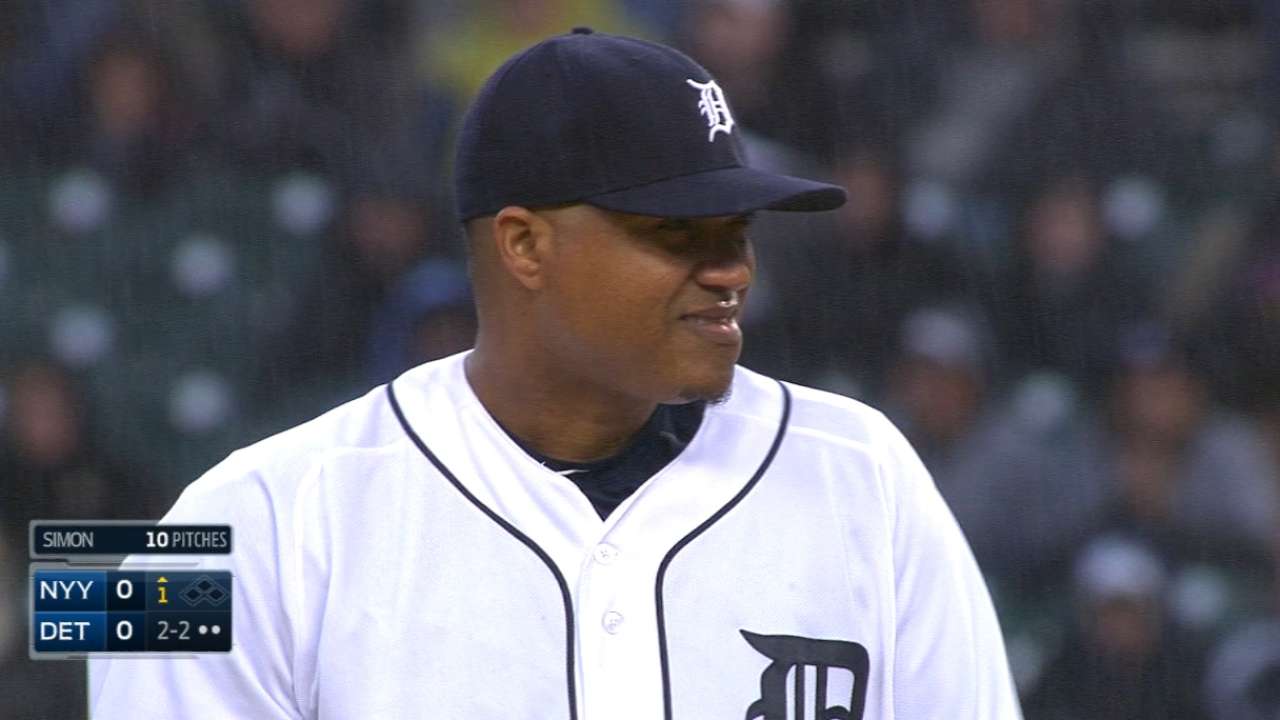 DETROIT -- On a night when the wind was gusting out to left field at Comerica Park, Alfredo Simon and CC Sabathia put on a pitchers' duel for most of Monday's series opener between the Tigers and Yankees. Mark Teixeira's home run to right field stood as the lone scoring until back-to-back RBI singles from J.D. Martinez and Yoenis Cespedes swung the game to Detroit in the seventh inning for a 2-1 Tigers victory.
The win improved the Tigers' record to 11-2, continuing their best start since 1984, and the best start in the Major Leagues this year. Six of those wins have come in starts by Simon and Shane Greene, who went into the season as the perceived back end of Detroit's rotation.
"I just try to do my best every time," Simon said. "I'm happy the way I keep pitching right now."
Simon gave up two extra-base hits in a three-batter span of the second inning, including Teixeira's fourth homer of the year, but settled down from there on the strength of a splitter that dipped sharply for most of the night. Sabathia faced the minimum 18 batters through six innings, thanks to three double plays and a caught stealing, before the Tigers rallied in the seventh.
"It's frustrating, especially in a 1-0 game, tight game," Sabathia said. "Kind of want to shut it down and get us back in the dugout."
MOMENTS THAT MATTERED
Ellsbury, Gardner rob V-Mart: The Yankees outfield apparently would go to any lengths to keep Victor Martinez off the bases Monday night. Brett Gardner stole one hit from Martinez in the second inning, bouncing off the left-field wall after snagging a fly ball. And Ellsbury made a sensational play in right-center field in the fifth inning, robbing Martinez of extra bases with a backhand grab and sliding all the way to the warning track. More >
"What can you do? You do what you can control, which is putting a good swing on the ball," Victor Martinez said. "They had pretty good defense in the outfield, might be one of the best in the game, especially with Gardner and Ellsbury. Nothing surprises me about that."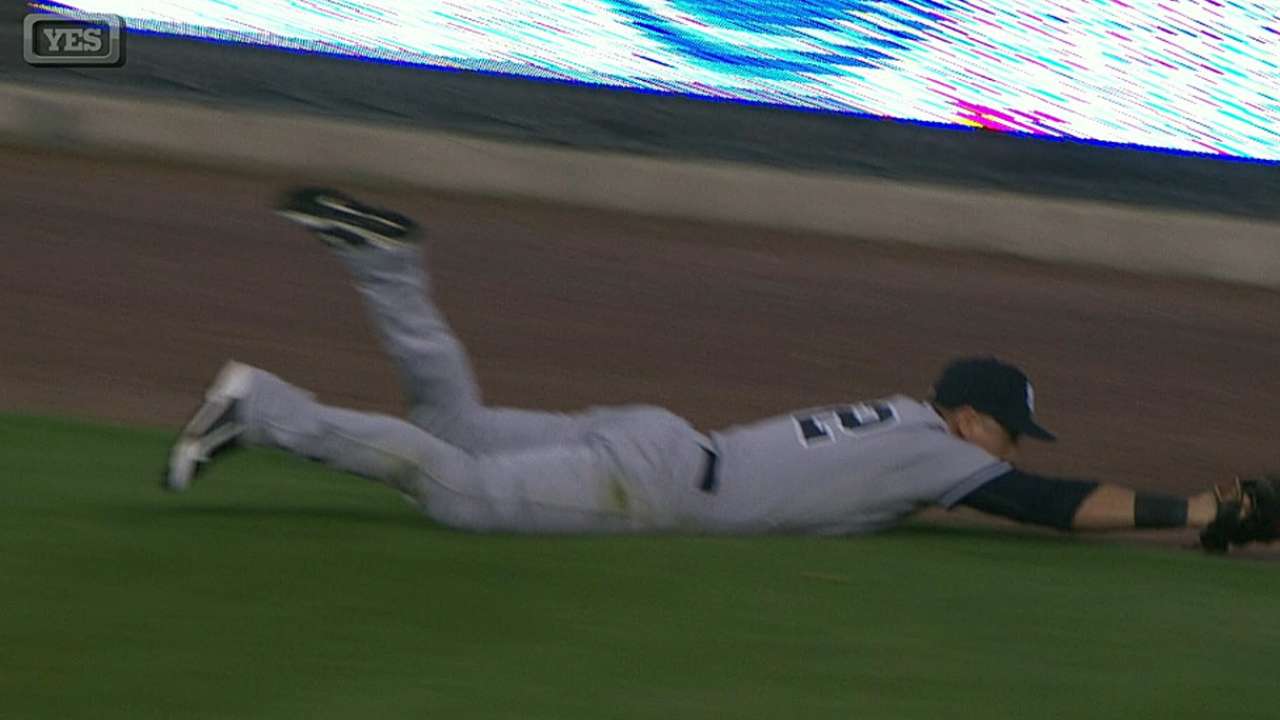 Rajai runs out of double play: Sabathia erased three Tigers baserunners on double plays, two of them hit by Miguel Cabrera. Rajai Davis' leadoff single in the seventh set up the potential for another until Davis daringly tagged up from first on Ian Kinsler's flyout to left. Cabrera's sharp grounder to short still nearly caught Davis off the bag, but he stayed alive for J.D. Martinez's ground ball through the left side.
"You wish he was a slower runner, and that doesn't happen," Yankees manager Joe Girardi said. "But he's got good speed, and it's a smart play."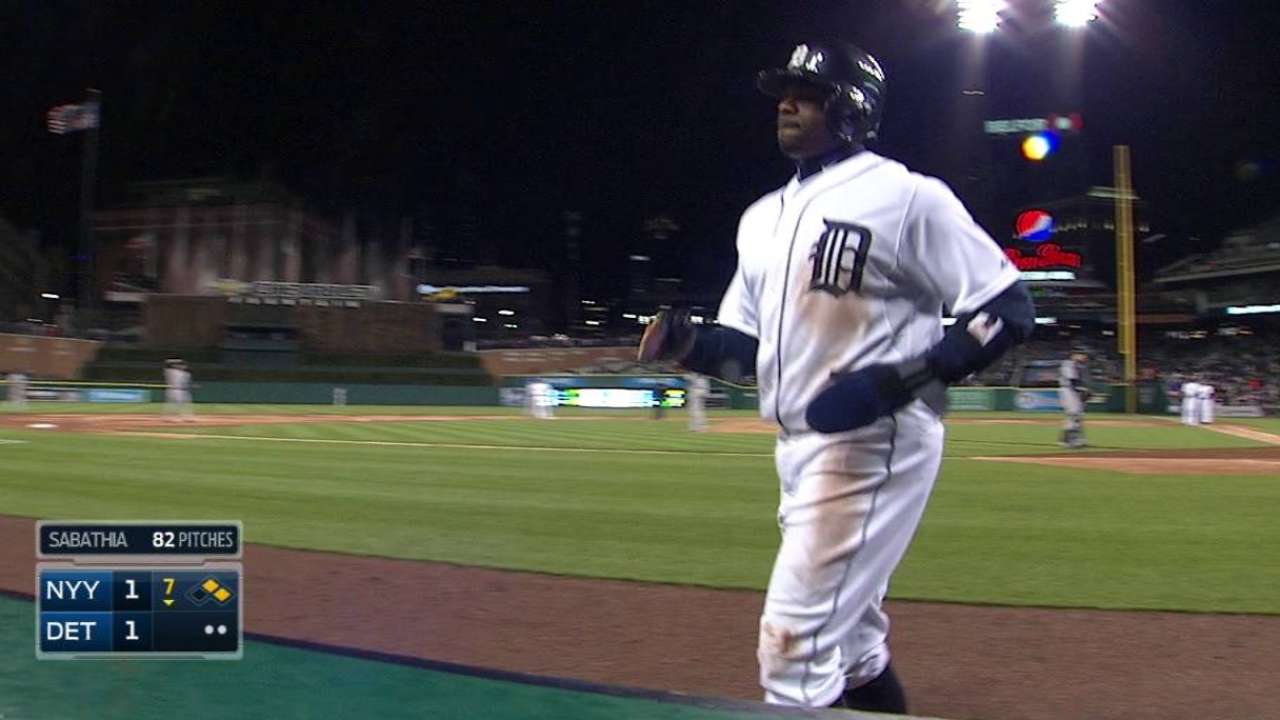 Held up: The Yankees had a chance to tie it up in the eighth inning following a leadoff single by Chase Headley and Stephen Drew's sacrifice bunt. Didi Gregorius knocked a single to center field, and Davis briefly bobbled the ball. Headley might have had a chance to score, but third-base coach Joe Espada held up Headley before the ball reached Davis. Ellsbury then smacked a hard-hit ground ball to second base off reliever Joba Chamberlain, allowing the Tigers to turn an inning-ending double play.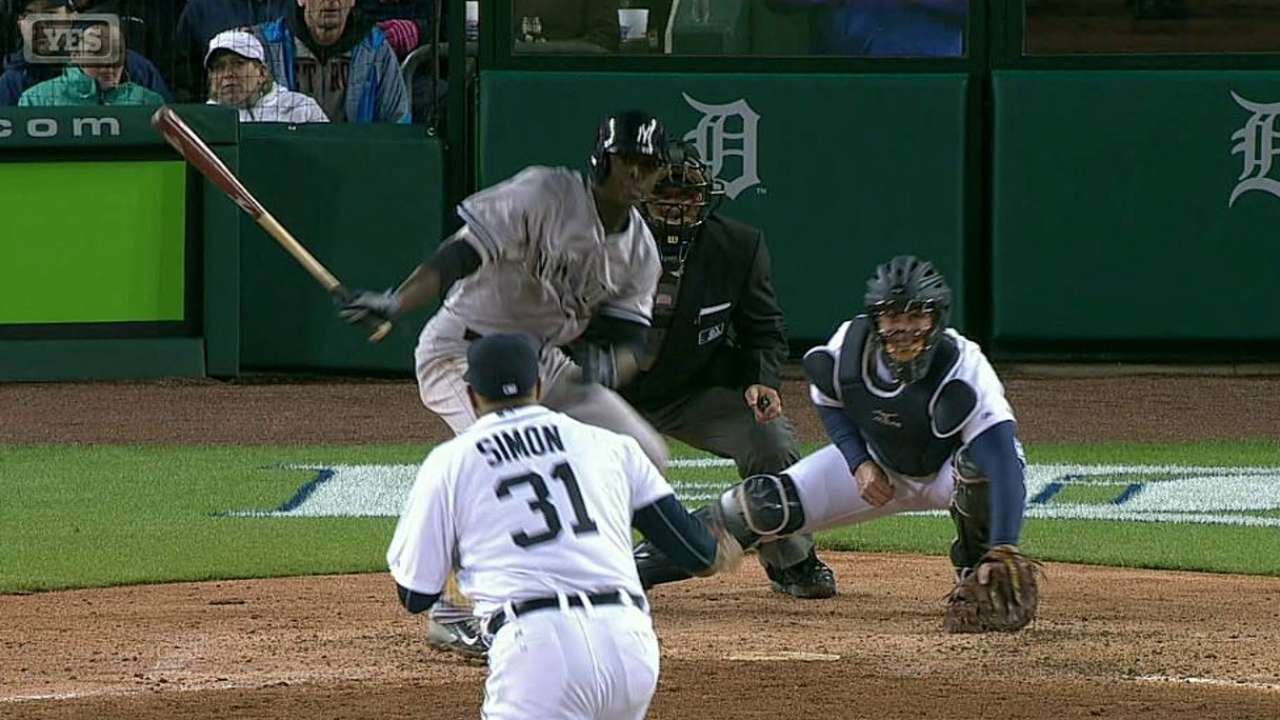 "If it's hit to his left a little bit, they don't double me up. Even if I don't quite hit it as hard, they don't double me up," Ellsbury said. "That's about the only way they could have."
Iglesias ignites defense: Jose Iglesias left Gardner staring in disbelief on his way back to the Yankees dugout with a sixth-inning piece of magic. Iglesias ran down Gardner's ground ball deep in the hole, then made a throw across his body that still had enough on it to beat Gardner on a hop for the second out of the sixth. More >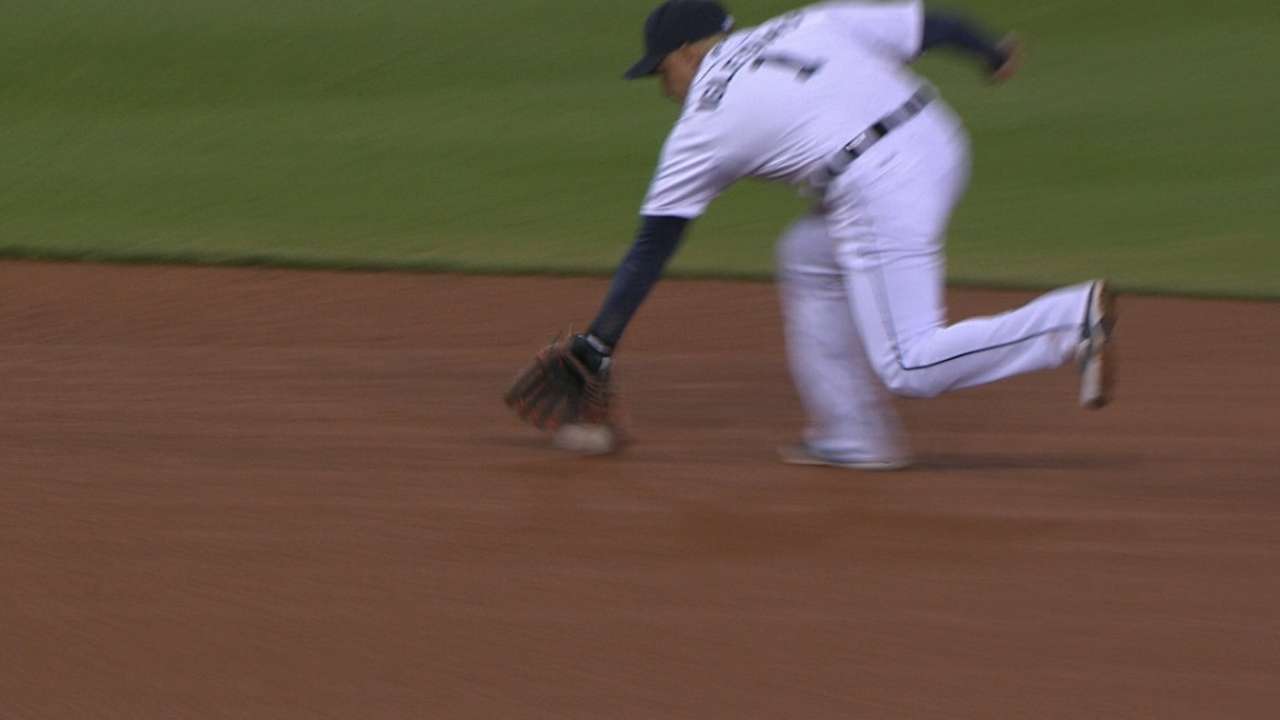 QUOTABLE
"That lineup is tough. I came in after the one inning and told Chris Young, 'That should be illegal.' They've got a great lineup. Once you think it's done, they have more hitters coming." -- Sabathia
"Talking to [first-base coach] Omar [Vizquel] about it when I was at first, I said, 'If they send him, are we going?' He said, 'Yeah, go, get in a pickle.'" -- J.D. Martinez, on his rundown between second and third as Victor Martinez scored the go-ahead run.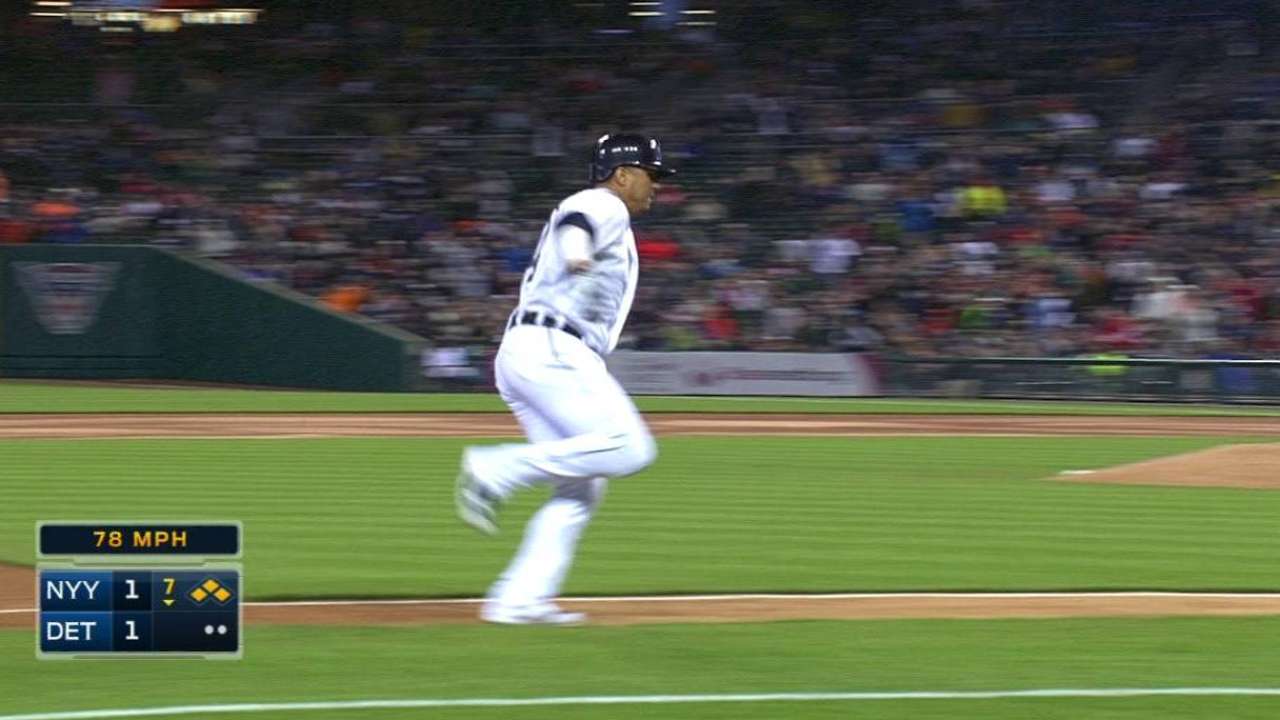 SOUND SMART WITH YOUR FRIENDS
Teixeira's solo home run in the second inning was the 367th of his career. That moved him into fifth place on Major League Baseball's all-time list of homers by switch-hitters, passing Lance Berkman.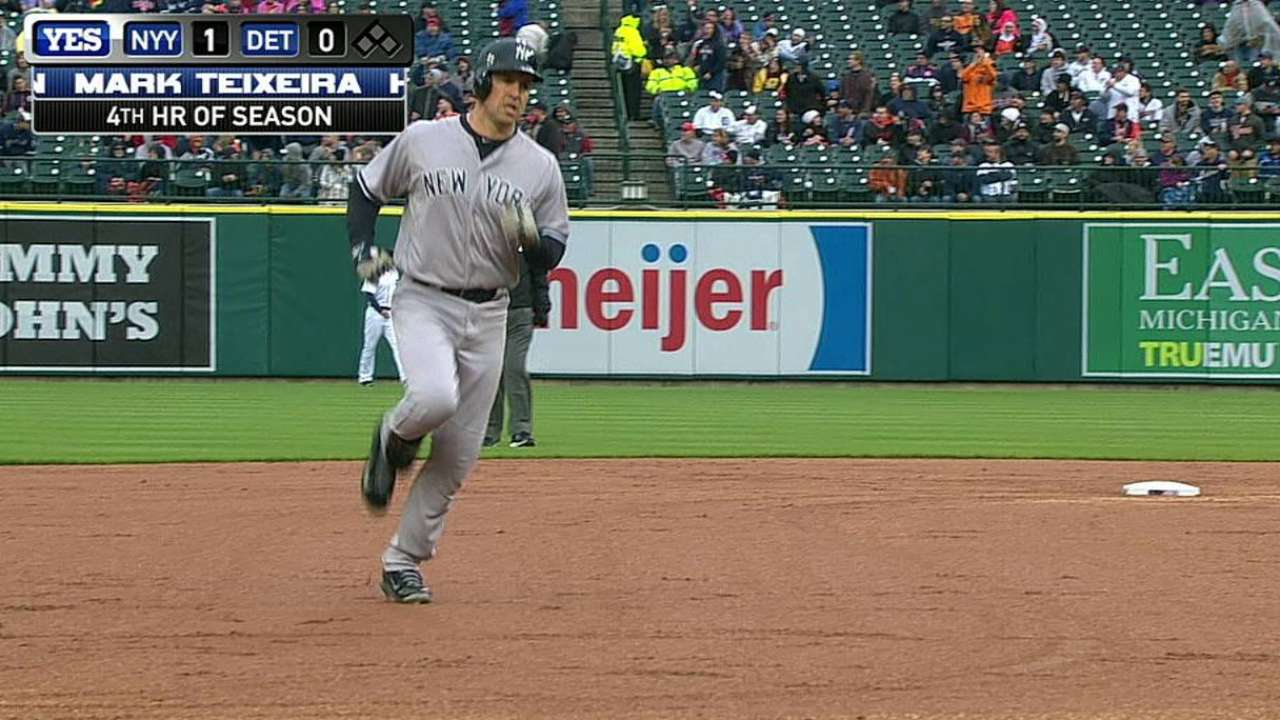 The Tigers have already won four times this season when scoring one or two runs in a game. They had six such wins all of last season.
CC IN THE RUNDOWN
Iglesias entered the game with four steals, but he couldn't out-run Sabathia on Monday. Iglesias reached on a two-out single then got caught off first base, at which point Sabathia took matters into his own hands and ran from the pitcher's mound to tag out Iglesias. The speedy shortstop tried to make a break for second, but the 305-pound left-hander chased him down for the final out. More >
WHAT'S NEXT
Yankees: Right-hander Nathan Eovaldi will make his third start of the season as the Yankees return to Comerica Park to face the Tigers on Tuesday night at 7:08 ET. Eovaldi is seeking his first win with New York. He's allowed five runs over his two starts combined, but he's yet to complete more than 5 1/3 innings.
Tigers: With Justin Verlander still shelved by a right triceps strain, Kyle Lobstein will make his second start in his place, taking on a Yankees lineup he flummoxed for six innings with one earned run in a no-decision last August at Comerica Park. Lobstein will be pitching on eight days' rest since giving up three runs on eight hits over five innings April 12 at Cleveland.
Watch every out-of-market regular season game live on MLB.TV.
Jason Beck is a reporter for MLB.com. Read Beck's Blog and follow him on Twitter @beckjason. Adam Berry is a reporter for MLB.com. Follow him on Twitter at @adamdberry. This story was not subject to the approval of Major League Baseball or its clubs.